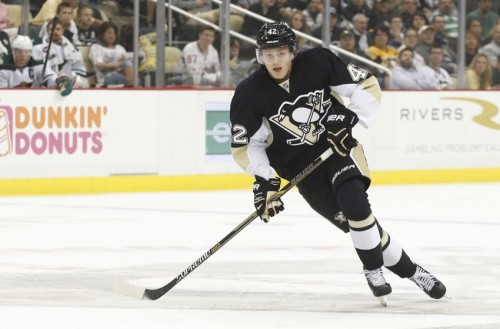 The Pittsburgh Penguins are bringing Kasperi Kapanen back on North American soil to join the Wilkes-Barre/Scranton Penguins by the end of the week, according to Jenn Menendez of the Pittsburgh Post-Gazette:
#Pens in the process of bringing prospect Kasperi Kapanen to WBS by end of the week, per GM Jim Rutherford who said "That's the first step."

— Jenn Menendez (@JennMenendez) March 31, 2015
His performance in the preseason impressed me enough that I predicted he would play opening night. Though I was wrong, my thoughts on Kapanen are still the same. Here's what I had to say about Kapanen's play on NHL ice:
In his first preseason game, Kapanen looked a little lost at times. Having to jump in to a system that teammates are still learning is not an easy task. But as the game went on, he settled in and even got a few shots. In his second game, he got more involved with a few takeaways. However, it wasn't until Saturday afternoon that we got our first glimpse of the real Kasperi Kapanen – picking his spot above former Vezina Trophy winner Sergei Bobrovsky's shoulder for the first goal of the game.
Just in case you want to see that goal again:
He totaled 21 points (11G, 10A) in 41 regular season games with the Kalevan Pallo (KalPa) and five points (0G, 5A) in the club's five postseason games; his best numbers in Finnish Elite League to date. And while it isn't fair to compare those to NHL numbers, a nice setup or even a goal from Kapanen would be much appreciated on a Penguins roster that can always use more depth scoring.
However his most important numbers, as Dejan Kovacevic pointed out, are in the "games played" column. Kapenen has hardly played through the full NHL grind over in Finland. A set of young, fresh legs would do this roster some good. Especially when their other set of those are currently hindered by two knee braces.
Some may say it's too soon for Kapanen to jump into the NHL, especially in the postseason. But for a kid that most said "needed another season overseas," there is no better time than now. With a limitless roster come playoff time, the worst that could happen is it doesn't work out and he sits. At least he gets the experience. I'm sure the other teams signing college players right now wouldn't mind at least giving them a taste of the postseason if they were allowed. Why should Kapanen be treated any different?
The other bonus is that he gets two weeks to get acclimated in Wilkes-Barre. Get used to the ice. Get used to the system. Most importantly, get his body acclimated with the time change and schedule.
Mind you, this is all pending Kapanen actually being called up from Wilkes-Barre/Scranton come playoff time. But Jim Rutherford has the ball rolling to at least get him playing with the farm team.
Kapanen can play. Hopefully this time I'm right in saying that he will.