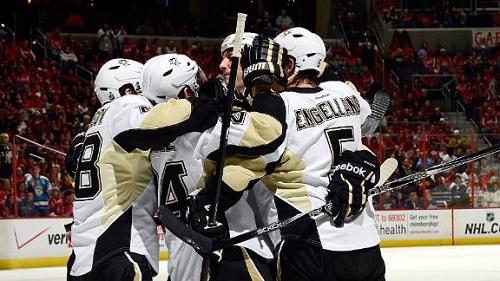 At the Verizon Center, the scoreboard displays a lopsided result: a 6-3 victory for the visiting Pittsburgh Penguins. For the Washington Capitals, scoreboards have become placards—angrily announcing yet another defeat. The team's woes are only augmented by an abbreviated season, threatening to dash the club's dream of rising to the apex of hockey.
The tide seemed to turn for the ailing Capitals, albeit briefly. Penguins' netminder Tomas Vokoun abandoned his post at the least opportune time when a dump-in by John Carlson rebound off a stanchion and landed into a wide-open net. The blunder cost the Penguins an early lead and to the delight of Capitals faithful, tied the game at 2.
To Vokoun's credit, the goal resulting from the play was bizarre and he should not be blamed. Following the match, Vokoun recalled a similar situation.
"In Chicago 12 years ago or so, I remember it really good. They're rare but it happens. Thankfully, we won. In Chicago we lost. This one doesn't feel as bad."
The goal was Vokoun's only blemish on Sunday afternoon. The former Capital stopped 21 of 24 shots, earning him a .875 save percentage. Vokoun proved impressive and focused after stopping shots by Alexander Ovechkin and Marcus Johansson. Penguins bench boss Dan Bylsma credited his team's discipline, tenacity, and work ethic for the win.
"It wasn't always going smooth in that second period," Bylsma said. "They get a bounce off the glass. We had to respond to that and continue to play consistent in our game and mentality, not get frustrated. I thought our guys did a great job of that.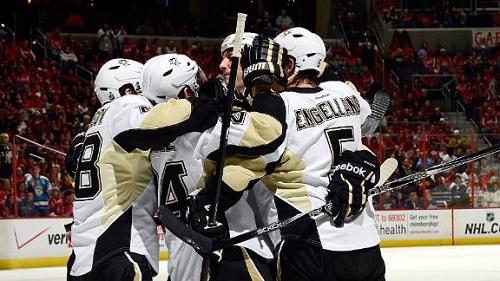 The Penguins played as cohesive unit, as evidenced by Sunday's contest. The revamped power play unit, featuring Sidney Crosby and Evgeni Malkin, was effective and unyielding—scoring two goals on three opportunities. The Penguins played with tenacity and intrepidity, registering twenty-nine hits and twenty-two blocked shots. Despite playing a plethora of minutes, Penguins' key blue liners Brooks Orpik, Paul Martin, Deryk Engelland, and Kris Letang played a tight and stingy game—registering only ten giveaways. To compare, the Capitals gave the puck away twenty-two times.
Forward Chris Kunitz netted a late goal in the final frame, with some help from Penguins captain Sidney Crosby, to secure the victory and a hat trick. Kunitz earned a plus-1 ranking and the game's first star.
"I'm just trying to put the puck on net," Kunitz commented. "I was fighting it for quite a few games, too. I changed some things, try to get into better areas on the ice. Luckily a couple of them went in."
The Penguins will continue their road trip and meet the New York Islanders on Tuesday before welcoming the Capitals to the Consol Energy Center on Thursday.