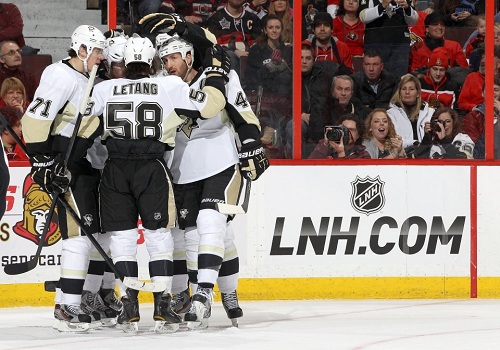 It was a shootout goal from Russian forward Evgeni Malkin that lifted the Pittsburgh Penguins over the host Ottawa Senators on Sunday afternoon. The Penguins were perfect in the shootout with a trio of superstars—James Neal, Sidney Crosby, and Malkin—beating Senators netminder Craig Anderson.
Exasperated and proud, the Penguins bench breathed a sigh of relief as the win marked the end of the club's mini slump.
"It's a good wakeup call," Penguins goaltender Marc-Andre Fleury commented. "Every two points are really important. I think we have to treat every game like if it's a game that gets you in the playoffs."
The preceding contests—against the Toronto Maple Leafs and Winnipeg Jets—served to highlight the plethora of errors committed by the Atlantic Division heavyweights. Poor puck management, turnovers, sloppy defense, and lack of pressure in the neutral zone married with unsatisfactory performances from key players spelled trouble in the Steel City.
"Everything's magnified early in any season, but it feels even more like that when it's shortened," Penguins Head Coach Dan Bylsma said before the contest. "You can say it's just five games now, but soon we'll be at 10 games, then the halfway point shortly after that. … It's going to go quickly."
Senators' Paul MacLean is on the same page.
"With the way the schedule is, you drop this one, you get ready for the next one and get ready to play again," he said about the abbreviated season. "It's more like a playoff thing than a regular season, and you have to have a short memory."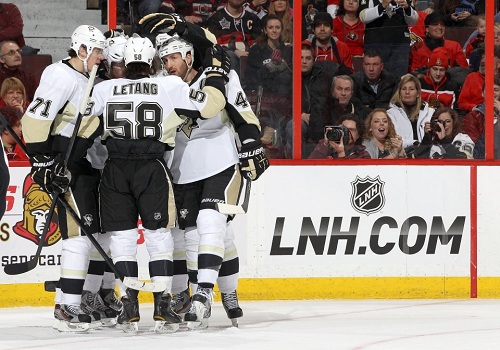 Neal's persistence was fruitful in the early stages of the first period—scoring at 13:31 from Malkin's cross-ice pass. It was the lone goal in regulation for the Penguins and the fourth of the season for Neal. Colin Greening would respond for the Senators, tapping in a rebound at 13:44 in the second frame.
The Penguins looked recharged and refocused on the bigger picture. Perhaps the consecutive losses left a bitter taste. Perhaps bench boss Bylsma inspired his troops yet again with his now infamous pre-game speeches. For now, the Penguins will relish the victory and stay committed to their unique brand of hockey.
The Penguins will host the New York Islanders Tuesday evening at the Consol Energy Center.