The Penguins started off November with mediocrity —a 4-4 record— before turning it around by winning seven of nine contests through December 6th.
After losing two straight to Atlantic Division leaders Montreal and Boston on November 23 and 25, the Penguins have been ravaging the competition. The Pens have reeled off five consecutive victories and now lead the Eastern Conference with 41 points. But why are the Penguins surging?
Below are two big reasons the Penguins are shining coming out of November.
---
Strong Goaltending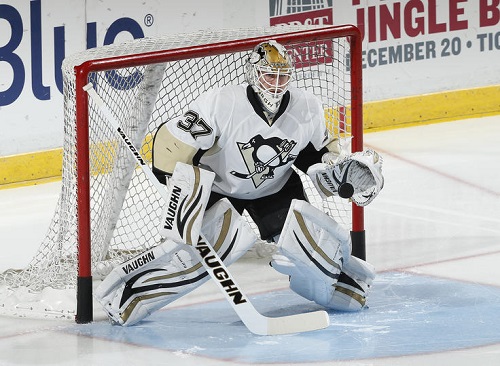 The Penguins started off November with two back-to-back victories over the Columbus Blue Jackets. One of those victories was a 3-0 shellacking on November 2. That victory was the first career win— in shutout fashion—for Penguins backup goalie Jeff Zatkoff.
Zatkoff didn't play again until November 22, 20 days after his last on-ice action. On that night, Zatkoff stopped 32 of 35 shots in a 4-3 victory over the New York Islanders for his second career victory.
Five days later Zatkoff saw some relief action after the Toronto Maple Leafs bombarded starter Marc-Andre Fleury in the early stages. Zatkoff was able to play well enough—11 saves on 13 shots-faced—for the Penguins to mount an impressive 6-5 shootout come-from-behind theft of a win. It helped that the Penguins defence held Toronto to zero shots in the third and overtime frames.
Zatkoff then saw action against the beleaguered Florida Panthers, who managed to rip 40 shots against the Penguin rookie goalie. Zatkoff was able to turn them all away but one in a 5-1 Penguin victory.
How's that month for the rookie? Zatkoff finished November with a 4-0 record while showing his teammates and fans that he is capable of playing at the NHL level.
If Zatkoff had a great month, Marc-Andre Fleury had a strong one.
Currently, Fleury is on pace to have his best statistical season of his 10-year career. As of this writing, he's posting a .922 save-percentage and a 2.01 Goals Against Average. Fleury also currently leads the NHL (Tie) with three shutouts and is tied for second in wins with 16.
One of those shutouts came against division-rival Washington where Fleury stopped Ovechkin and company's 18 shots in a 4-0, November 20 win. The other came versus the Steven Stamkos-less Tampa Bay Lightning on November 29.
Fleury finished the month 5-5-1, coming up big in key games.
---
Geno-vember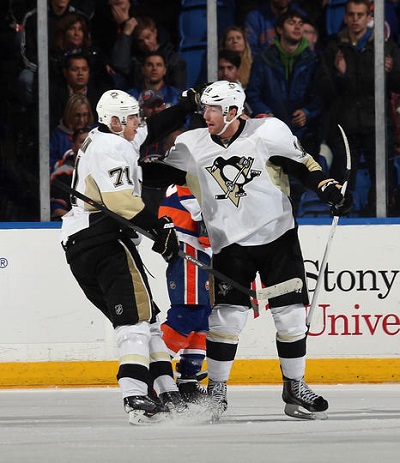 Remember Evgeni Malkin's 15-game goal drought? It seems like it never happened after the November Malkin put up.
The NHL's second-star of the month put up record numbers—in 15 games played, Malkin put up 4 goals and 21 assists. The 21 assists are the most in a month since Wayne Gretzky scored 21 in 1996.
Well, what got in to Geno?
In a recent article on penguins.com, Malkin credits the return of line mate James Neal, "'Nealer' came back and I started playing better."
His coach saw the change in Malkin almost immediately after Neal's return from injury on November 9. Head coach Dan Bylsma said, "We saw it as soon as James stepped on the ice in St. Louis."
Captain Sidney Crosby also saw the change in Malkin:
"He looks like he's having a lot of fun out there. He's not thinking about it. He's shooting when he needs to shoot, passing when he needs to pass. It's good for us."
Neal seems to agree:
"You know what, we kind of just clicked right away. We started playing together and it just kind of worked. Some guys have that ability to just find that knack for each other and we have that. It's been awesome to play with him. He's a lot of fun to play with."
The two share awesome chemistry on the ice, which goes both ways. Since his return, Neal ranks near the top of the league in goals and points.
Malkin finished the month with eight multi-point games.
---
If the Penguins can keep the goaltending going and if Malkin and Neal continue their strong chemistry, it'll be tough to stop them. Lost in all the "Malka-mania" is that Sidney Crosby still leads the NHL with 41 points and Chris Kunitz is tied for second in goals with 16. The Penguins keep looking deadlier and deadlier.
All stats were found via NHL.com or hockey-reference.com
Follow Quinton on twitter (@quintonclapper) where hockey and lame jokes occur far too often