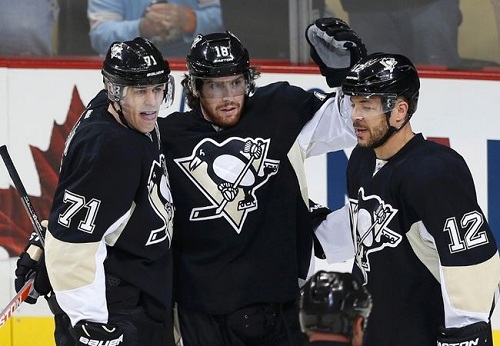 For the Pittsburgh Penguins, summer came too early. A post-season run prefaced with promise and dreams of hoisting hockey's holy grail was prematurely ended in a lackluster clash with the Boston Bruins. The Penguins, a club many thought would advance to the Stanley Cup Final, looked tired and were caught chasing the play—not directing it. A 1-0 loss in Game 4 at the TD Garden allowed the Bruins to sweep the top seed in the Eastern Conference, drawing the curtains on the Penguins' 2012-13 season.
With a brilliant performance between the pipes, Tuukka Rask shone and turned away any offense the Penguins could mount. With only two goals in four games on the Bruins netminder, Rask and his club bested the Penguins. The Penguins' scoring core—Sidney Crosby, Evgeni Malkin, James Neal, and Jarome Iginla—were held pointless in the series, despite many attempts to force pucks behind Rask. As the buzzer sounded to wrap up Game 4, Rask easily made his 26th save of the evening and posted his second shutout of the series.
Following the game, Penguins' coach Dan Bylsma reflected on his club's efforts throughout the short series.
"It felt like something was keeping the puck out of the net," said Bylsma. "It certainly wasn't lack of opportunity or scoring chances or situations for our team, for our players, for our power play. We did have them. And at the end, it felt like not only Tuukka Rask was keeping the puck out of the net, but there was a force around the net because we had some great opportunities, good situations for our team, our players, and were not able to find any kind of goal in this series and never a lead."
Despite many impressive moments of the 2012-13 campaign—such as a history-making month of March, the acquisition of Jussi Jokinen, Douglas Murray, Jarome Iginla, and others, a top notch power-play unit, and rising to the top of the Eastern Conference with 72 points—the Penguins ended their season on a sour note.
Now, the focus of the club has shifted. Questions about roster composition, health of players, and various off-season plans have become the main priority of General Manager Ray Shero.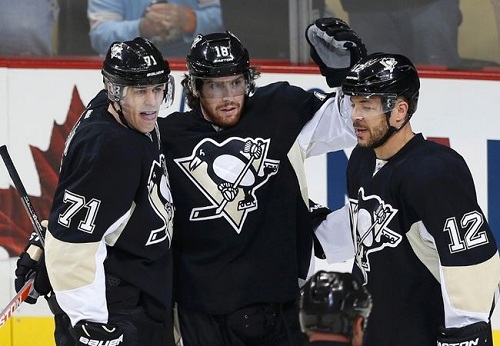 Moving Forward
A familiar face—winger Pascal Dupuis—hopes to return in a Penguins uniform next season. Dupuis, 34, is set to become an unrestricted free agent on July 5. A third of the Penguins' top line, which also includes Crosby and Chris Kunitz, Dupuis posted 48 points (20G, 28A) in a shortened 48-game season. Since playing alongside Crosby, Dupuis has become productive, efficient, and a key part of the club's powerplay unit. Currently the veteran forward earns $1.5 million—a modest paycheck for his skill, experience, and athleticism. Should Dupuis choose to venture off in the open market, he would undoubtedly receive a larger paycheck. However, dollars and cents do not concern him, expressing a strong desire to return to the roster—even if that means a pay cut, just as he did two years ago.
"I've done it before, for the same reasons," Dupuis told the media. "We'll see what happens this time around. But I definitely want to be back here. I just know there's a lot of guys that need to get re-signed. All I can control is what I'm going to do for a little while and they probably do have a plan already It's a matter of agreeing on numbers."
Jarome Iginla, Brenden Morrow, Matt Cooke, Craig Adams, Douglas Murray, and Mark Eaton are all set to become unrestricted free agents. Tyler Kennedy, Dustin Jeffrey, and Robert Bortuzzo will become restricted free agents.
Blueliner Kris Letang, an integral part of the Penguins' first powerplay unit, hopes to rejoin the Penguins roster. His contract is set to expire at the end of next season and is a current cap hit of $3.5 million. Like Dupuis, Letang could command a hefty pay raise—expected at $7 million per year, like Los Angeles' defenseman Drew Doughty. Letang understands the business aspect of negotiations but remains committed to staying in Pittsburgh.
"It's out of my control," he said. "It's all the management, coaches, Ray. They're going to have to make decisions and I'm just going to show up ready for another season. I want to be here. For me, from hearing from all of the other players, it's the best organization in the league."
If Letang returns as a Penguin, he would resume his duties on the club's powerplay unit, alongside Evgeni Malkin. The Russian forward agreed to an eight-year contract extension, to begin with the 2014-2015 season through to the 2021-22 campaign. The extension will see Malkin earn an average annual value of $8.5 million. Malkin, 26, is a dangerous goal scorer and will continue to produce for the Penguins in the long run.
Team Notes
-Ray Shero has been named General Manager of the Year
-Dan Bylsma has agreed to a two-year contract extension with the Penguins. The move expresses confidence in Bylmsa's coaching abilities—despite poor performances in the post-season. With a two-year term, the club has flexibility and is not tied to Bylsma long term. This sends the message that the club expects more from the bench boss and this is the last chance to prove himself.