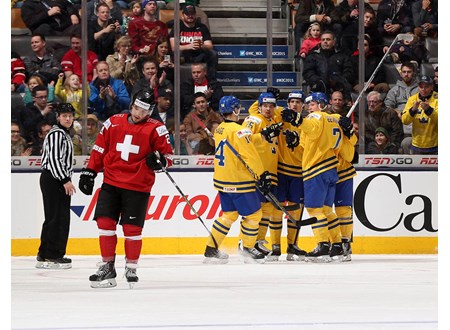 Back in 2010 it was Sweden vs. Switzerland, the battle for Bronze. That night Sweden stormed to an 11 – 4 win thanks to an Andre Petersson hat trick and a brace from now Anaheim Ducks' Jakob Silfverberg.
Fast-forward to the last day of 2014 and its Sweden V Switzerland again. This time less is on the line. Sweden have already advanced from Group B as group winners and just want to keep their 31 game group stage winning streak alive – they last lost in 2006 in overtime to the USA – while Switzerland are looking to bounce back after a shock loss to Denmark the day before, looking to avoid the relegation rounds with just one point enough to put them into the medal rounds.
Switzerland began their uphill battle the way any underdog wants to, with an early strike.
Yannick Rathgeb opened the scoring with a point shot that dipped, fooling Swedish goalie Linus Soderstrom, giving Switzerland a 1 – 0 lead with 3.29 played.
A scary moment for Swiss forward Timo Meier shortly after, going in for a hit on Axel Holmstrom, Holmstrom's stick came up and caught Meier below the nose sending him to the training room for stitches, but he was able to return shortly after.
After a delay in the game to clear the blood that spilt onto the ice after Meier's injury, Sweden wasted no time responding.
Drawing a penalty against Michael Hugli, five seconds into the powerplay Sweden's Adrian Kempe scored his third goal of the tournament and his third on the powerplay, levelling the score at 1 – 1 early on.
After returning to the ice, this time with a face cage, Meier didn't miss a beat, fore-checking relentlessly and desperately searching for the go ahead goal with line mate Kevin Fiala, and his best chance came on a wrap-around attempt but he was stopped by the leg of Soderstrom who kept the score 1 – 1 at the end of 20, with Swiss goalie Ludo Waeber holding strong against a late Swedish onslaught.
Moments after Swedens Adrian Kempe and Adam Brodecki failed on a 2-on-1 with one pass too many; the Swedes were celebrating a go ahead goal. Michael Hugli was sent to the box on his second penalty of the game, and 11 seconds in the Swedes grabbed their second powerplay goal. Axel Holmstrom won the face off and William Nylander dished the puck back to Oskar Lindblom who fired in his first goal of the tournament after four assists in the first three games.
Shortly after, the Swedes pressure paid off again. Robert Hagg took a shot which was stopped but landed in the blue paint, and with Mirco Muller slow to react, Lindblom tapped in his second goal making it 3 – 1.
Another scary moment, Switzerland's Yannick Rathgeb and Swedens Anton Blidh collided in the Swiss zone, Rathgeb delivered a late hit with the primary contact being Blidh's head, and as the young Swede was helped to the dressing room early, Rathgeb was sent to his own with a 5 + game penalty and presumably a suspension awaiting him when the play gets reviewed by the IIHF.
Without Blidh who didn't return, the Swede's looked to make it 3 out of 3 on the powerplay on the night, but they went one better.
Unlike their first two powerplay chances which resulted in quick goals, it took over two minutes for this one to pay off on the 5 minute powerplay. A point shot from William Nylander was redirected by Lindblom who grabbed his hat-trick.
With a major penalty to the Swiss, Sweden stayed on the man advantage, and made it 4 goals in three opportunities 26 seconds later, Jens Looke fired in his second goal of the tournament, making it 5 – 1 on the Swedes impressive 9th powerplay goal of the tournament.
The Swiss were rattled; they killed the remainder of the penalty but showed their frustration through their physical play.
Swedish forward Leon Bristedt followed in a shot and made contact with goalie Ludo Waeber, and after Timo Meier took exception by delivering a cross check to the face of Bristedt, the pair were sent to the box resulting in a late 4 on 4.
Switzerland continued to play the body, with Noah Rod leading the charge, but after a suspected hook against Sweden's Adrian Kempe, he kicked away the dropped stick resulting in a Swiss powerplay that continued into the third period.
Up 5 – 1, Sweden's penalty kill stayed perfect, joining Canada and the United States as the only teams to not surrender a powerplay goal all tournament.
Sweden weren't at risk of losing the game but was risking ending their perfect penalty kill record of 11 for 11. First Lucas Wallmark went to the box at 42.10 for hooking before William Lagesson joined him 30 seconds later for holding, giving Switzerland a 5 on 3, but some fantastic defensive work by the Swedes killed it off to give them a perfect 13 penalties and 13 kills record.
A scoreless third period meant the game ended with an emphatic Swedish 5 – 1 victory, thanks to a natural hat-trick from Philadelphia Flyers 2014 fifth round pick Oskar Lindblom who temporarily put himself top of the points scored standings with 7 in four games, a point ahead of Canada's Nic Petan.
With the victory, Sweden now look forward to New Year's Day off before they take on either Finland or Germany on January second, looking to go on to win their eighth medal in the last nine tournaments.
Switzerland on the other hand now have to hope for a helping hand from Russia as they sit second last in Group B, if the Czech Republic beat the Russians the Swiss will be out of the medal rounds and fighting in the relegation round, trying to avoid demotion to Division 1A.
Love Reading About Hockey?

Subscribe to keep up-to-date with the latest and most interesting hockey news!
| | |
| --- | --- |
| | We hate spam just as much as you |