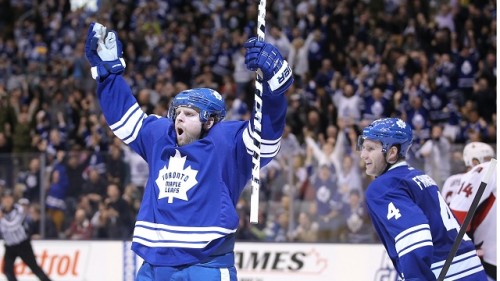 I'll start off with this. As a Canadiens fan, there have not been many Leafs that I have feared in the past decade. To name a few, there has been hall of famer Mats Sundin, Alexander Mogilny and a certain controversial figure named Phil Kessel. You can say all you want as a Leafs fan or as a fan of hockey that Kessel is enigmatic and can step away for games at a time and not make an impact (and you may be right). However, when the Canadiens take the ice against the Maple Leafs, there isn't a player I fear more with the puck on his stick than Phil Kessel. His speed and shot are the two most elite parts of his game. Phil has the ability to take a breakout pass from his own zone and carry the puck into the offensive zone while creating scoring chances. His quick release and ability to use screens effectively make his shot deadly and one of the best in the National Hockey League.
When a player has 256 points in his last 253 games and hasn't missed a game in 5 years after beating cancer, what exactly makes Phil Kessel so problematic? He's not taking up an obscene amount of money for his contributions to the team, so that argument is moot. Kessel signed a 64 million dollar deal in the off season for the next 8 seasons and for his point per game production rate, it's hard to criticize what Kessel brings to the team.
The real problem here lies in the perception of what fans WANT Kessel to be, but not what he ACTUALLY is. Leaf fans see a player like Jonathan Toews or Anze Kopitar, and say "WHY DOESN'T KESSEL PLAY LIKE THAT?". The answer is clear and simple. You know what you have in Phil Kessel and that's that. He's not going to play on the penalty kill. He's not going to play a 200 foot game. If you cannot accept that he is a role player and not someone that you build around, then you really need to question your hockey IQ.Everyone calling for Kessel to be traded, you really need to realize a few things.
1. The criticism that you bring to his game diminishes his value. You will not get what you want for him and therefore you will lose any trade he's involved in
2. Where does your offense come from if you trade him?
Kessel might not be the perfect interview, but just because he is a shy individual does not take away from his on ice play. He's a supporting player. A player that has a ton of offensive value but lacks the defensive awareness to be a two way player. Kessel has come a long way in terms of what his defensive play used to be when he was a younger player coming from the Boston Bruins.
Kessel does not like the spot light. He was drafted by the Boston Bruins and traded to the Leafs, two hockey driven markets, where he had no real choice to shy away from the pressure that is these markets. He signed an extension with the Leafs because he want's to win a cup in one of the best hockey cities in the world and was paid to do so; who could blame him?
The criticism that he receives is not warranted. There are many problems on this current Leafs team that need to be addressed before the blame can move closer towards Phil.
Lets start with the management team. When your number one center that is stuck to Phil Kessel like glue is Tyler Bozak, your team really has a problem. One of Peter Horachek's first moves was to finally split up Kessel and Bozak and place Kadri, a much more talented player in the number one center position. You can blame the players as much as you want, but the reality is that management needs to give the team and the coach the players it needs in order to succeed. The firing of Randy Carlyle puts the Leafs on a better track, but management needs to find a supporting partner for Dion Phaneuf and a center that can play with Phil and has actual defensive value, unlike the perceived value that Bozak doesn't have there.
David Poile, The General Manager of the Nashville Predators had this to say about Kessel. "I love Kessel as a player. Who wouldn't want what he produces from an offensive standpoint on their team? I've read all the things about Kessel being uncoachable &, from my experience, that's not the case". (TSN Radio)
Now lets look at this from more of a Habs stand point. If we were to compare the two franchises, and look at a player on Montreal that is portrayed to have holes in his game but continues to prove people wrong. PK Subban was drafted by the Montreal Canadiens 43rd overall in the 2007 draft. Since being drafted, Subban's defensive game has been put into question but with his training methods and strong desire to win, Subban has vastly improved his game in the defensive zone. Subban's critics often said he'd be nothing more than a power play specialist but he has developed into one of the best defenseman in the National Hockey League.
Kessel and Subban are a lot alike. While they both have a fair share of critics, they are too both excellent players for their respective clubs. In 367 NHL games, Subban has tallied 224 points of which 60 are goals; both excellent for a defenseman. Subban often doesn't get the respect he deserves because of his perceived reputation of being selfish and cocky to go along with his lack of care in the defensive zone. These are all false assumptions and if you watch Canadiens games you can see what an asset Subban is to have on the backend anchoring a defense. There are always going to be perceptions of players drawn by the media and fans but the key for star players is to overcome these perceptions and prove the naysayers wrong. Subban and Kessel have done just that.
You want to blame someone in Toronto? Blame management and players that are under performing. Don't blame a point per game player that has beaten cancer and hasn't missed a beat since.
Love Reading About Hockey?

Subscribe to keep up-to-date with the latest and most interesting hockey news!
| | |
| --- | --- |
| | We hate spam just as much as you |