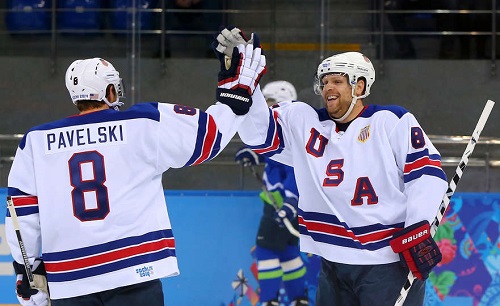 Group play is over. The Americans toughest test came against Russia which it defeated in a shootout. The USA will play Czech Republic on Wednesday. Can you guess who not only leads the USA in points but the entire tournament so far? If you said Patrick Kane or Zach Parise, try again. The leader is Toronto Maple Leafs forward Phil Kessel and what a tournament he is having thus far.
Phil Kessel leads all scorers with 7 points. He scored an impressive hat-trick in the last game of group play vs Slovenia. He did not waste any time to get on the scoresheet. Joe Pavelski fed Kessel who went around a defender and beat the Slovenian goalie to make it 1-0. The two would go at it again as Pavelski threw a pass out front and Kessel made it 2-0. Kessel would jam in a rebound later on for his 3rd goal of the game. There has not been an American Olympic hat-trick since John Leclair notched 3 goals in 2002.
Kessel not only has great stick-handling skills but he has a prowess to get to the net. With the way he has been playing, he may be able to help the USA to its 1st Olympic Gold Medal since the 1980 Miracle on Ice team.