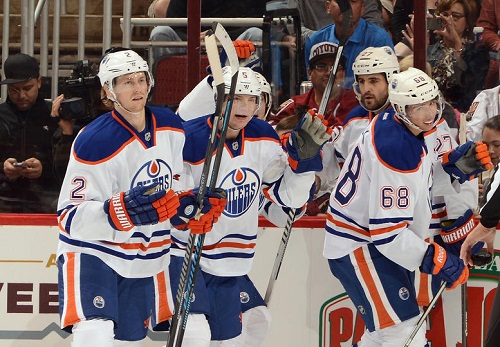 The Edmonton Oilers faced the Phoenix Coyotes at a road game in Arizona, and were unfortunately defeated 5-4.
Edmonton had a slew of injuries to contend with, with Taylor Hall still out with his knee injury and Sam Gagner out with a broken jaw, Steve MacIntyre and Ryan Hamilton likewise with knee injuries, Jesse Joensuu with a back injury, and Ryan Smyth with a groin injury.
Despite this, the game was eventful, and Edmonton got out to a good start. The Oilers managed to kill off a penalty about 5 minutes into the 1st period, and goalie Jason LaBarbera made a couple of good saves. The first goal of the game came courtesy of rookie Tyler Pitlick – his first career NHL goal, nonetheless – as he buried one past Phoenix's Mike Smith.
Things looked good at the end of the 1st period, as the Oilers led 11-7 in shots and had a one goal lead.
Unfortunately, less than one minute into the second period Phoenix tied the game, and five minutes later the Coyotes took the lead, bringing the goals to 2-1.
Phoenix continued to dominate the second period, as David Schlemko got another goal past LaBarbera. Edmonton replaced LaBarbera with goalie Devan Dubnyk briefly.
"I didn't have a timeout, and I wanted to talk to our team, see if I could get them going back in the right direction," Dallas Eakins commented on the decision to take LaBarbera off the ice for a moment, "It was more of a chance to let our team breathe a little bit." LaBarbera eventually returned between the pipes.
Halfway through the second, Edmonton's Will Acton got a rebound and brought the Oilers closer to tying up the game. With less than one minute remaining, David Perron carried the puck into the zone, which got passed between Jordan Eberle, Justin Schultz and Ryan Nugent-Hopkins and finally returned to Perron at the top of the crease. The frenzy of activity at the end of the second led to the Oilers tying the game 3-3.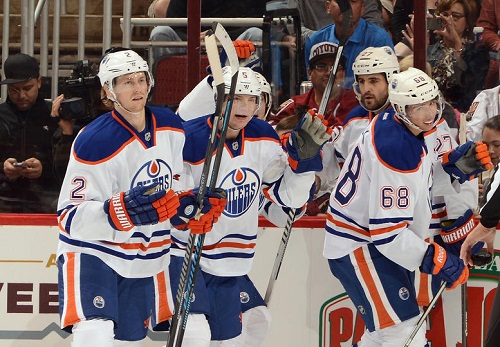 12:37 into the third period, Ryan Jones deflected in a shot by Nugent-Hopkins to bring the Oilers to a 4-3 lead.
Once again, the lead didn't last, and the Coyotes tied things up with a goal, which Phoenix's Ekman-Larsson followed with the game-winning goal with about 7 minutes left.
Edmonton's Dallas Eakins reflected on the Oilers' performance, saying that "it was an interesting game to say the least. It's getting disheartening to say 'I like most of our game, but we ended up short.'"
Edmonton is definitely having a shaky start to the season, something that doesn't bode well for Oilers fans.
The Oilers play the Los Angeles Kings tonight at 9pm PST.
Love Reading About Hockey?

Subscribe to keep up-to-date with the latest and most interesting hockey news!
| | |
| --- | --- |
| | We hate spam just as much as you |