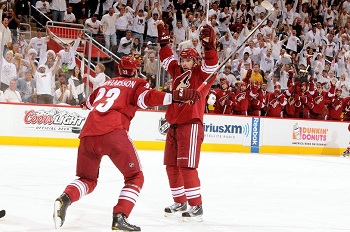 Welcome band-wagon fans. I won't give you any flak for joining us die-hard Coyotes followers because, admittedly, we need all the fans we can get. Just make sure you bring some long-lasting respect with you, because now that we have your attention, we can proudly say that our 'Yotes deserve it.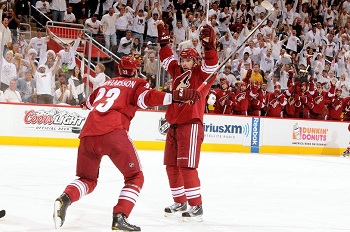 Last night the Phoenix Coyotes pulled out win number two of Game 2 against the Nashville Predators in the Western Conference semifinals. As Desert Dog Blogger Dave Vest accurately wrote:
"With a 2-0 series lead over the Nashville Predators firmly in hand, the Coyotes are officially turning heads – here in Arizona and beyond the state's borders – as the Stanley Cup Playoffs roll on. Don't believe me? Well, just search the internet and/or the various social media platforms today and you will quickly discover how NHL observers – and fans looking for a team to root for in the playoffs – are suddenly taking notice of what this hockey team has accomplished so far in the postseason."
And it's true, headlines have been reading as follows: "Phoenix Coyotes Set a Standard with Raucous Victory", "Phoenix Coyotes' Mike Smith Turns Little Potential into Big Results", "Coyotes are Turning Heads", and "Coyotes Finally Have Reason to Howl in Playoffs". Heck, even Senator John McCain came out to the game wearing his best White Out attire.
However the biggest celebrities in Jobing.com Arena were all on the ice. Antoine Vermette, Radim Vrbata, Martin Hanzal, and Shane Doan each shown with a goal and an assist and the Coyotes doused Nashville goalie Pekka Rinne with 39 shots and scored five times for the first time in the postseason to beat the Predators, 5-3. Forward Taylor Pyatt who cashed in on a terrific second-period rebound goal said it was the 'Yotes best game of the playoffs.
Personal favorite and highlight worthy goal of the game came at 3:47 in the second from the "Prime Line" of Vrbata, Hanzal, and Whitney. Vrbata skated past the Predators net and feathered a beauty of a pass back out between Rinne's pads finding Hanzal who was crashing the crease. This was Hanzal's first goal since his overtime game-winner over Chicago to open the playoffs.
Rinne was quoted post-game saying "I have to be better, no question, but also we have to be better as a team. That always goes hand and hand. We just have to bear down. We have scored enough goals to win hockey games and we're just giving up too many goals right now."
Granted my friends know me and know my obsession with my Coyotes, but I think they were a little bothered by my ignoring the dinner party taking place in our apartment last night so that I could focus on the game. (I'd say it is all for you guys, but I'm not going to lie, it was totally self-indulgent.) Here's to hoping you all take the time to sit and watch some of this series, because it is well worth your time.
Game 3 will be the first of this series in Nashville at Bridgestone Arena, taking place Wednesday at 9pm EST.
Love Reading About Hockey?

Subscribe to keep up-to-date with the latest and most interesting hockey news!
| | |
| --- | --- |
| | We hate spam just as much as you |