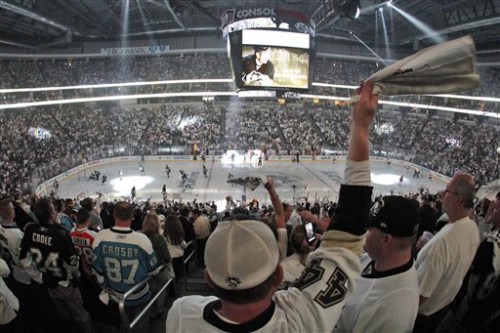 Pens fans everywhere are currently mentally preparing for the slow, agonizing Band-Aid rip that will be tonight's regular season opener.
After peeling off that sticky plastic – which has been covering our severe last-season wounds for about five months now – we will see one of two things:
The gash from the horrible tragedy will be completely healed, or
The gash was only kind of healed, and by ripping off the Band-Aid, we did nothing but split it fully open once more.
Based on the preseason, my bet's for the latter.
Even if the Pens start out as badly as everyone is expecting, though, there will still be plenty of opportunities for the team to fix itself up and turn their odds around before it gets too far into the season.
Thanks for this are due entirely to the additions – as well as subtractions – made to the roster during the offseason.
Last year's players that the Pens either traded or did not resign were:
Maxim Lapierre (C)
Nick Spaling (C)
Brandon Sutter (C)
Blake Comeau (F)
Daniel Winnik (C)
Craig Adams (F)
Steve Downie (F)
Christian Ehrhoff (D).
That's a lot of men to lose. Luckily, though, the Pens were easily able to replace them.
The newly rostered players for the 2015-16 season are:
Nick Bonino (C)
Adam Clendening (D)
Matt Cullen (C)
Brian Dumoulin (D)
Tim Erixon (D)
Bobby Farnham (F)
Phil Kessel (F)
Sergei Plotnikov (F)
Daniel Sprong (F)
These men are the Pens' chance at a fresh start, and there's a few reasons as to why.
One of the biggest is the riddance of Lapierre and Adams, two of the heaviest ankle weights from last year's team. In 35 games, Lapierre had only two assists and was a -13. Likewise, in 70 games, Adams scored only once and assisted a mere six times. He was also a minus one.
Adams can play the age card to explain his lack of production, but Lapierre has no excuse. Either way, though, both needed to go, and both did, which will help the Pens out tremendously this year – mostly because it cleared up space for a few talented, young prospects to enter the system.
The one prospect we should be most on the lookout for is Daniel Sprong, the 18-year-old Dutch forward the Pens took in the second round of the 2015 Draft. Since 2011, he's averaged 39 goals and 44 assists per season, some incredible numbers that hint at just how much of a superstar he is destined to become.
Which is good. We could always definitely use more superstars.
On a different note, though, another player whose loss is going to benefit the Pens is Downie.
Sure, he may have scored 28 points in his 72 games – a pretty OK number – but his first-in-the-league PIM of 238 just wasn't worth it. So, it's best that he's gone, being replaced by many, many others who can score just as well without taking all the game-killing penalties.
Unfortunately, though, that doesn't mean we still don't have a penalty-taker to look out for. Last season, Farnham, in his 62 games with Wilkes-Barre, took 226 PIM. And, in the 11 he played up for Pittsburgh, he somehow managed to take 24.
So, it's pretty safe to say we're still going to have penalty problems.
Back to the subject of subtractions, though, there are two players from last season the Pens lost who we all might actually miss: Comeau and Sutter.
In 80 games, Sutter had 21 goals, 12 assists and was a plus 6. He also had only 14 penalty minutes, an incredibly low number for such a high amount of ice time. Likewise, Comeau racked up 15 goals and 16 assists in 61 games, finishing the year out as a plus six. His PIM was a little higher than Sutter's at 65, but such a number doesn't matter in comparison to Downie.
Both Sutter and Comeau were consistent, talented and disciplined players, which made their loss a bit upsetting. They were some of the only ones last season who still looked good even during the otherwise painfully bad times, which means that their presence on the ice will probably be missed.
Luckily, though, the two were pretty perfectly replaced.
Acquiring Kessel from Toronto – whom Sutter was actually traded for – was the highlight of the offseason for the Penguins organization, and rightfully so. Getting someone who managed to average 66 points per season for a team as bad as the Leafs was the miracle everyone had been waiting for. And so far, he's just as good as everyone's expected, a great sign for the upcoming year.
So at the end of the day, with all the new acquisitions, the Penguins are more than capable of eventually reshaping the team to once again be a perfect system. The question just remains as to whether or not they physically will. Because "can" is a lot different than "will."
If they do end up successfully changing, the Pens will definitely make it into the playoffs, probably finishing third in the Metropolitan Division and fifth in the Eastern Conference. They definitely will not make it past the first round, though, mostly because they still won't be able to handle such pressure.
But one thing is for sure: If the Pens continue playing the way they currently are, they'll never make it to the playoffs. They'll probably finish fifth or sixth in the Metro, depending on how all the other teams perform, and it honestly wouldn't be a surprise, based on how they've been declining as of late.
Love Reading About Hockey?

Subscribe to keep up-to-date with the latest and most interesting hockey news!
| | |
| --- | --- |
| | We hate spam just as much as you |