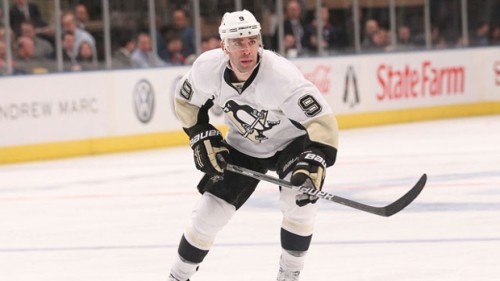 But even Superman can only fly so long…
The Pittsburgh Penguins officially announced Tuesday afternoon that right wing Pascal "Super Duper" Dupuis will play no more, his 15-year-long career finally coming to a close after experiencing further complications with the same blood clot that kept him sidelined all of last season.
The decision came after the Dec. 1 game against the San Jose Sharks, where the 36-year-old was pulled off the bench post experiencing chest pains.
"When I had to leave after the second period kind of made it more clear in my head that definitely something was weighing on me and my wife and on my kids and on the team and on my teammates, too," Dupuis told the media in a press conference after the announcement. "Just going through all the testing, radiation [and] CAT-scan and everything … I don't feel I should have my body go through this again."
While all are glad to see the beloved no. 9 put his health and well-being before anything else, there's still an aura of sadness surrounding the fact that it signifies the premature closing of a truly fantastic career.
It will certainly be odd for fans to no longer see the funny French-Canadian assisting team captain Sidney Crosby to yet another goal — only to play a practical joke on announcer Dan Potash 15 minutes later during an in-between-the-periods interview.
It will also be odd to see the jerseys donning his last name hanging in the arena gift shops no more, along with the ever-smiling, green-eyed face missing from the next, next edition of the team's annual calendar.
But even though he won't be playing the sport ever again – at least not on a professional level – this veteran, who has amassed 190 goals and 219 assists in his 871 total games, certainly won't be giving up the hockey life entirely.
"I don't see a timeline for me to come back," he said, "or … to push to come back as far as a hockey player right now. My main goal is to try to help this team as much as I can to definitely win the Stanley Cup, but it's definitely not going to be on the ice."
So even though he'll be missed during games, at least he'll still be around somewhere in the organization, carrying on his legacy.
Fans who wish to help Dupuis with his transition into retirement by sending support and well-wishes can do so here.
Love Reading About Hockey?

Subscribe to keep up-to-date with the latest and most interesting hockey news!
| | |
| --- | --- |
| | We hate spam just as much as you |