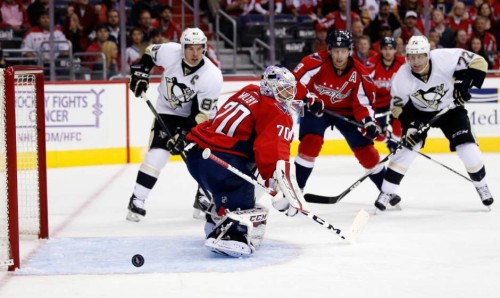 The Penguins earned their fifth win of the season last night against the Washington Capitals, finally boosting their record up to a semi-decent 5-4-0.
It's a small ray of hope that the team may just get better and start producing like they did way back when, but even so, it still has everyone wondering why said improvement is taking so long.
The Pens have the big-name talent. They have the money and resources. They have the fans and other general support. So why aren't they doing better? What could possibly be missing?
A winning attitude, that's what.
As hard as it is for any long-time Penguins lover to believe, it's true. Unlike the teams of old, the Pens can no longer compete because they no longer have a competitive mind.
While players constantly say they want to win, there's never any actual winning that comes from it, which makes it very hard to take those claims seriously.
It would be different if players and coaches ever said how exactly they planned on making change happen, for the key to success is first figuring out how you're even going to obtain it.
But no one in the organization talks about ways to get there – at least publicly – which makes one question just how serious they are regarding turning themselves around.
So far, when watching games and interviews this season, the only vibes given off have been ones reminiscent of the early stages of a cheap Alcoholics Anonymous program: sadness and coping.
What there isn't, though, is an urgency to change. There's just acceptance, a depressing acknowledgement that we've gotten this bad and hope to maybe one day change it. Maybe. If we can.
Sure, the whole "first admitting you have a problem" thing is great for rehab, but it just doesn't work in a professional sports league.
While a team is sidelined and struggling, everything else in the league carries on. No sport simply sits around and waits for the one's of old to return to greatness. When a team goes bad, the world still turns, letting another organization take its place until it figures its issues out.
But the key is that it must eventually figure them out. Unfortunately for the Penguins, as of right now, it seems like that key has been lost.
Don't believe me? Take a look for yourself.
The Oct. 23 edition of The Inside Scoop – a team recap the Penguins organization periodically runs on its website – contained some interesting player quotes. They were all regarding the drastic line changes Head Coach Mike Johnston made during that day's practice, one of the only attempts this season at improving the team.
"When you change lines, I think everybody gets a little wakeup call."

— Patric Hornqvist
A wakeup call? What is this, a boutique hotel on a casual 'business' trip to France?
Also, why on earth do players even need to be woken up? Haven't they seen this season's stats? Were those not already alarming enough?
"Obviously we're not scoring that many goals, so you knew there were going to be some type of changes"

— Phil Kessel
So you do know you're all terrible this season.
Then what are you waiting for?
As an old manager of mine used to say to mistakes, "Don't be sorry; fix it!" In other words, change never happens if everyone just stares at the wall waiting for someone else to jump in. Get up and go do something about it!
When asked if the shake-up could energize the team:

"We'll see. We'll see how everybody responds and ultimately, I think everybody's role doesn't really change based on who they're playing with. Everyone knows what they need to do. But sometimes, it takes a little bit of [change] to get everybody going and hopefully, that will be the answer for us."

— Sidney Crosby
"We'll see."
Oh, will we? How casual of you.
"[S]ometimes, it takes a little bit of [change] to get everybody going and hopefully, that will be the answer for us."
Yeah. For your sake, Sid, let's hope.
"There's a lot of things that can affect goal scoring and we have to be aware of that and those details are important to scoring, but it's early in the year and we have a lot of guys who are capable of scoring here, so I don't think it's something that we need to press the panic button on. I think it's something where we've got to make sure that we're looking at the right things to improve and being way better."

— Sidney Crosby
Of course! Why would anyone who's considered the world's best player panic if he's only scored three points in nine games? And why would any captain ever think of proverbially pressing 'eject' if his team is 17th in a league of only 30? That would be melodramatic.
With all sarcasm aside, though, doesn't it seem a bit odd that Crosby isn't even showing concern over quickly finding a way to not suck anymore?
When a team that's overflowing with superstars is struggling to keep above a tied record, every member of the organization should be furious, proclaiming with both anger and drive that the current play is unacceptable and must change. Even more, they should be erupting with specific ways in which they plan to get better, just because that's what anyone who legitimately cares about something does when it goes horribly, horribly wrong.
But they're doing none of that, and it suddenly puts a whole different question down on the table. Maybe it's not even about a lack of competitive attitudes in the first place. Maybe it's just that the Penguins no longer care at all.