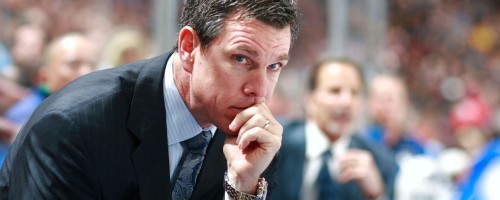 While the Pens versus the Caps always makes for a fun, highly-watched rivalry night, this time around, most people's eyes will be glued to the ice for a different reason. It is new head coach Mike Sullivan's debut game, and everyone is beyond anxious to see how it will go.
Replacing former head coach Mike Johnston – who was relieved of his duties Dec. 12 after spending the entirety of the 2014-15 season with the team – the NHL warhorse and now ex- Wilkes-Barre Scranton head coach is exactly the kind of change the Penguins need in order to turn their beyond sub-par season around.
Sullivan is notorious for getting hired to coach on short notice, but even despite typically taking over when an organization is struggling, he still always somehow finds a way to improve his team and eventually lead it to victory.
Sullivan retired from playing hockey in 2002 after spending 11 straight NHL seasons as a PK-specialized center for the San Jose Sharks, Calgary Flames, Boston Bruins and, then, Phoenix Coyotes. It only took him one more year to work his way up to head coach of the Boston Bruins, where he led the team to the division title in the 2003-04 season, with a 41-19-15-7 record.
After one more not-so-successful year in Boston and a turn as part of the coaching staff of the 2006 U.S. Olympic and 2007 U.S. National teams, he became the assistant coach of John Tortorella for the next decade, moving with him from Tampa Bay to New York and eventually to Vancouver. Finally, in 2014, Sullivan became the player development coach for the Chicago Blackhawks, where he would win a Stanley Cup with them that same year.
Sullivan became head coach of the Baby Penguins after the former, John Hynes, was hired by old GM Ray Shero into the Devils organization. Since becoming coach, he has lead the baby Penguins to first place in the Atlantic Division, with a record of 19-5 and a total of 38 points so far this season.
Aside from player complaints of him sometimes acting too much like a military drill sergeant during practices, there really isn't anything negative to be found in Sullivan's record. He's a coach who focuses on discipline and technique while still allowing players to be creative and do as their instincts tell them, or so he's been saying to the media as of late.
But there's no reason to doubt that his words are true. When Sullivan enters a team's coaching staff, there is always some sort of miraculous improvement, and a prospect such as that should bring hope to everyone in this struggling organization, especially because of how drastic of a coaching change he will be. But that change will be good; someone as strict and regimented as he is exactly what this gone-soft organization needs if it ever wants to get back on track.
So here's to hoping that this Mike is better than the last and that this mid-season firing will have the same outcome as the other.
Love Reading About Hockey?

Subscribe to keep up-to-date with the latest and most interesting hockey news!
| | |
| --- | --- |
| | We hate spam just as much as you |