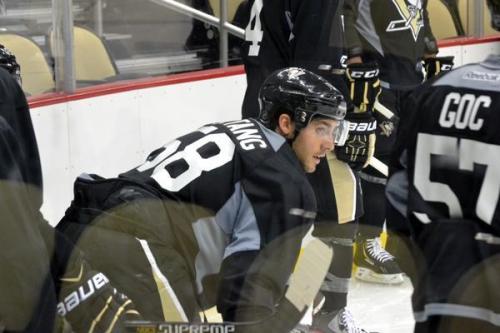 Some familiar faces took the ice for the Penguins open practice Saturday morning at Consol Energy Center. Some of them outplaying their familiar selves.
Forwards:
Pascal Dupuis, donning a red no contact jersey, looked like he was trying to play his way back into a black practice jersey with the rest of his teammates. Not only was his skating as strong as ever, but his hands seemed to be a little softer. Putting on a clinic after carrying the puck into the zone, it was almost comical to see him reluctantly handing it off to a teammate.
Beau Bennett, to the relief of many, went another day without injuring his wrist. He showed up to camp with something to prove. His offensive abilities were glowing. His shots were smart and precise. Is that enough? He sure didn't seem to think so when he put his defensive game on display with a few hits with no fear in the corners.
A healthy Marcel Goc is just what the bottom six needs. Some great play making was only topped by his work ethic in the corner drills. From the impression left today, no one got the slightest glimpse of Goc last season.
Zach Sill wants a job and he's coming for Craig Adams'. Sill made an impression right away with some great shots along with some strong skating and work in the corners, leaving a lot to be desired from Adams.
As far as forwards go, no one could match Brandon Sutter today. Looking to build on a strong postseason performance, Sutter should have no problem establishing a very important role on this revised Penguins team. Every drill felt like a game with him on the ice. If he has less than 726 line mates this year, the bottom six will be a lot more noticeable… in a good way.
Defense:
Robert Bortuzzo and Simon Despres spent the majority of the morning as a pair and rightfully so. Both have long been waiting in the defensive logjam of the Pittsburgh Penguins; promised bigger roles only to be caged up in the press box or in Wilkes-Barre. Today? They were unchained. Despres showed off his shot and speed. Bortuzzo showed off a hockey IQ many didn't know existed.
Olli Maatta had shoulder surgery? You wouldn't know it until he sat out for the majority of the scrimmage. His wrist shot, defensive awareness, and overall presence was on par with the Finnish rookie we saw last season. A sophomore slump doesn't look to be in the cards for Maatta.
Letang looks ready. No one can really say for what – A on his sweater? Career defining season? Norris Trophy? (Will any of that happen if he's playing alongside Rob Scuderi?) Whatever it may be, he made it known. His transition skating was more eye catching than ever before. His ability to play both sides of the game is, for once, extremely apparent. Is this the Letang everyone has been waiting for?
With new faces behind the bench and back at the office, everyone knows they have to "get to their game" and prove they deserve to keep or even increase their roles. With the exception of Adams and Scuderi, everyone came out today and did just that.
Part 2 will take a look at some of the long awaited new faces to join the Penguins roster.
Notes:
Derrick Pouliot skated before practice with Penguins strength coach Mike Kadar.
Olli Maatta did not participate in the scrimmage.
Chris Kunitz did not participate in the scrimmage as a precaution.
Sidney Crosby was on the practice roster, but did not participate.
Evgeni Malkin was not on the practice roster and did not participate.
Love Reading About Hockey?

Subscribe to keep up-to-date with the latest and most interesting hockey news!
| | |
| --- | --- |
| | We hate spam just as much as you |