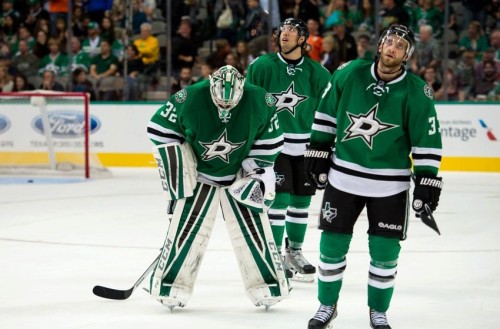 Dallas Stars fans came into this season with hopes built quite high for their team, with their team making the playoffs once again and acquisitions like Jason Spezza and Ales Hemsky just boosting their confidence higher. There have been glimmers of hope here and there, but overall the team has not performed the way anyone expected.
In recent weeks, we've seen the Stars lose key members, particularly Tyler Seguin, to injury and go into an all out tailspin as the season winds down, finding themselves in a pit that will be extremely hard to crawl out of at this point in the season. Currently sitting at the bottom of their division, filling the hearts of fans, players, and staff alike with painful frustration and loss of hope.
One apparent flaw to the Stars' play is that they haven't been able to hold a lead and have been finding themselves with multiple goal leads, only to completely lose them in the third period.
Head coach Lindy Ruff said, "You score four goals, you should win. It's as simple as that."
Ruff has been showing a lot of his frustrations with the team lately, particularly what he views as the team's main problem: goaltending. Ruff recently put Kari Lehtonen on blast, saying, "There's one thing I see … I know this is hard, but the goaltending performance doesn't match the effort of the team right now. You need goaltending, it's as simple as that."
This is something that has been an issue all season. While the Stars have been notorious for their lackluster defense, Kari Lehtonen is capable of being a world class goaltender, but lacks the consistency to give him that extra push to greatness. One night Kari will play like a goalie worthy of the Stanley Cup, but the next game he will often look like an entirely different goalie, letting one goal after another past him.
"There's nights that he [Lehtonen] has to steal games, there's nights where he has to outperform the other guy," Ruff said. "Our goaltending has been tough on our team, and I think that's where the frustration is."
Love Reading About Hockey?

Subscribe to keep up-to-date with the latest and most interesting hockey news!
| | |
| --- | --- |
| | We hate spam just as much as you |