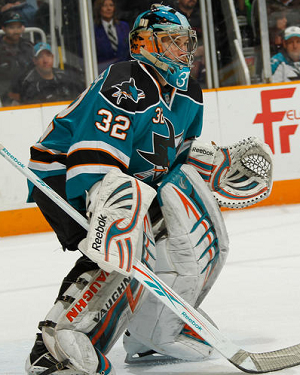 People in the Bay Area are getting excited that hockey is returning, this time in October instead of January. The only thing is that there are still a few questions regarding the Sharks.
The first inquiry is who is going to back up Antti Niemi when the season starts. According to head coach Todd McLellan, the battle to be the backup between Alex Stalock and Harri Sateri is a "dogfight." Former backup Thomas Greiss signed a one year deal with the Phoenix Coyotes to backup Mike Smith, so this is the first time the Sharks have dealt with a backup fight since the 2007-2008 season.
In 38 games with the Worcester Sharks last year, Stalock posted a 17-16-4 mark with a 2.60 goals-against average and .912 save percentage. Sateri was 14-21-3 with a 2.89 GAA and .903 SP in 39 games.
Stalock is older and has more experience that Sateri, which may give him a slight advantage, but McLellan says that it wouldn't be fair to say that because they both have a shot at the NHL. Both goalies will travel to Vancouver for the first preaseason game on Monday night.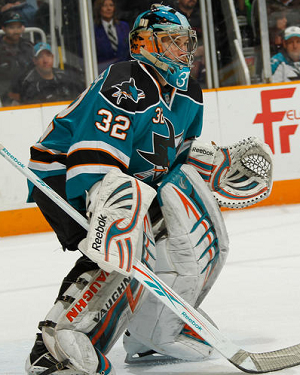 Another question is how Brent Burns is doing preparing to start the season playing forward. Last year he had 20 points in 23 games after making the transition, and playing alongside captain Joe Thornton. Playing forward was nothing new for Burns, as he started his career off as a forward, before moving to the blue line.
McLellan's opinion on the situation is, ""If he does a lot of the physical things that he has shown us he can do, the points will take care of itself, and the team, in turn, will have success versus just Brent Burns. That's what we'll be looking for."
A final question is whether or not Brad Stuart will be ready for opening night, and Tomas Hertl will be on the opening night roster.
The answer to those is probably yes. Stuart says that he hopes to be ready for opening night, even though he missed training camp. Hertl is also expected to be on the opening night roster, as he is continuously getting shifts with multiple different veterans.