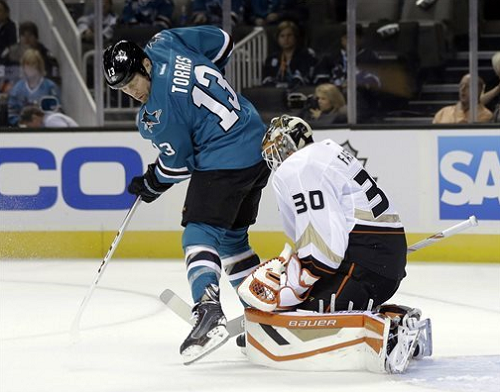 The San Jose Sharks signed Raffi Torres to a three year deal during the offseason since the front office thought he was the missing piece in the puzzle to get to the Stanley Cup. Most Sharks fans were thrilled with the signing.
During a preseason game against the Anaheim Ducks, Torres was hurt when he collided with the Ducks' Emerson Etem. The Anaheim forward was trying to stay onside by dragging his leg at the blue line, but Torres accidentally skated into Etem from behind, leaving both players on the ice. They were down for a couple of minutes each, but both managed to skate off with some help.
The Sharks were hoping that his injury wasn't too serious, but on Thursday Torres had surgery performed on his torn ACL, and will be out for at least three months.
How are players and coaches reacting to the news?
"He's kind of an irreplaceable player" says Logan Couture.
Dan Boyle thinks that, "Obviously, it's a big loss for us. I think he was a big part of our success at the end of last year."
Coach Todd McLellan stated, "It's a big hole to fill. But, there will be 29 other teams this year at some point that go through it. They will lose key people and they will find ways to recover. We want to be ahead of the curve, and do a better job than they do."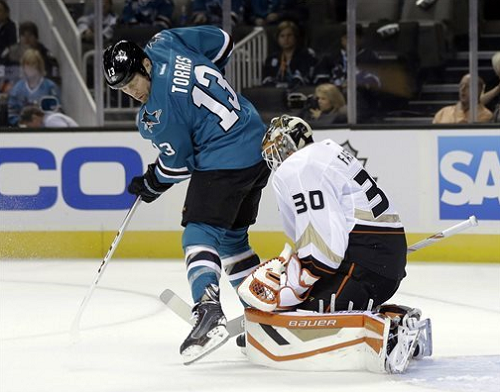 Now the question is who will take Torres' spot in the lineup?
This injury all but guarantees a spot for 19-year old Tomas Hertl, who has impressed everybody so far this season. Another couple of players that are on the radar to make the opening night roster are Freddie Hamilton and Matt Nieto. In the games that I have watched, Hamilton and Nieto have played exceptionally well. They are both speedy and like to bump bodies. Hamilton has the upper hand in cracking the roster because of his experience, but you never know.
Another option could be forward Anthony Stewart, who is on a tryout right now.
The coaching staff will definitely have some thinking to do. The Sharks first game of the regular season is Thursday, October 3rd against the Vancouver Canucks at SAP Center in San Jose.