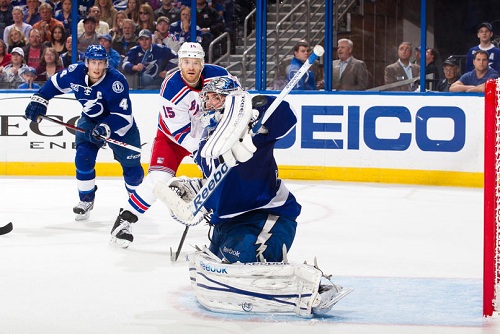 Steven Stamkos extended his point streak to eight games Saturday night but the Tampa Bay Lightning came up short on the second night of a back-to-back, falling to the New York Rangers 3-2.
The Lightning (6-2-0) actually out-shot the Rangers (4-4-0) in the game 32-30, including 15-4 in the third period.
However, they could not overcome a two-goal deficit in the waning minutes as Rangers G Martin Biron bent but did not break, allowing a Stamkos goal at 19:39 but nothing more.
Stamkos, one day after being presented with the 2011-2012 Rocket Richard Trophy (league's highest goal scorer), scored two goals in the game including one at 04:22 (6) in the second period that opened the game's scoring.
The 6-foot, 190-pound center was left unmarked in the slot, taking D Matt Carle's pass and firing over Biron's left shoulder to take the lead.
Rangers C Derek Stepan scored (1) on a rebound at 09:50 to tie the game at one heading to the third period.
Early in the third, Rangers LW Rick Nash blew past the Lightning defense, skated right across G Mathieu Garon's goal crease and jammed the puck past Garon's foot for a goal (2) that gave New York a 2-1 lead.
Garon, who made 27 of 30 saves in the game, probably would have like to have Nash's goal back.
LW Carl Hagelin's tip-in goal (1) through Garon's five-hole with about five minutes to play made three unanswered goals for the Rangers and forced the Lightning into all-out attack mode.
"We were just missing that sharpness that we normally have," Lightning head coach Guy Boucher told Sun Sports.
They may have lacked sharpness but they certainly were not short on effort, nearly bringing it back even after Stamkos' one-time goal (7) late in the period to cut the lead to one.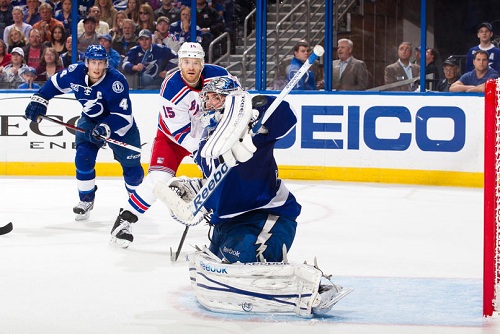 However, a flurry of last-second attempts went by the wayside, one even taking out C Vincent Lecavalier by flying into his ankle and sending him to the ice. He limped off to the locker room and no word has yet been released on his condition.
Boucher was proud of his hockey club despite their tough loss in their second of eight back-to-backs this season.
"We're right there battling with top teams," Boucher told Sun Sports. "That's where we want to be."
The Lightning will now head out on a challenging four-game road trip that includes games against the Rangers, Philadelphia Flyers, New Jersey Devils and Boston Bruins.
The trip opens Tuesday night at 7:30 p.m. ET against the Flyers at the Wells Fargo Center in Philadelphia.
The Rangers will finish a two-game road trip Tuesday night when they take on the Devils at 7:00 p.m. ET in the Prudential Center in Newark.