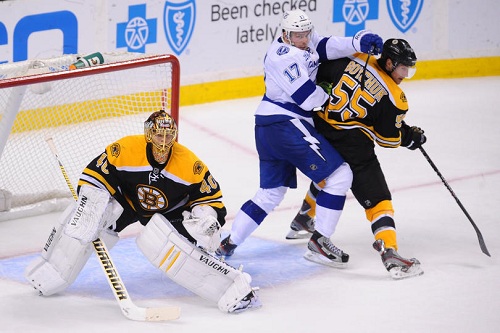 The Boston Bruins have what the Tampa Bay Lightning so desperately covet.
A goaltender who can take over a game and carry his team to victory.
Tuukka Rask did just that on Thursday night, leading Boston to a 2-0 victory despite being outshot 30-24 and allowing several great offensive chances to Tampa Bay. The shutout was Rask's fifth of the season.
The Lightning were shut out for only the second time this season.
"When the goalie starts getting confidence, good things can happen," coach Jon Cooper said. "Especially in this league…We couldn't bury our chances, and it just seemed that when we made the mistake it went in the net."
Boston, coming off a brutal 5-2 loss to the Philadelphia Flyers on Tuesday night, took the lead early in the second period after a scoreless first. Defenseman Dennis Seidenberg (3) beat Anders Lindback (22/24) stick side on a slap shot for the tiebreaker and eventual game-winner.
Rask made an incredible save on Steven Stamkos on a two-on-one break for Tampa Bay, flashing his glove hand and preserving the lead.
Daniel Paille (10) then took advantage, taking a one-timer from Gregory Campbell at 13:39 in the second and burying the puck before Lindback could slide across the goalmouth to make the save. Boston took a 2-0 lead into the third.
Tampa Bay had plenty of chances in the third, including a Tom Pyatt shot that rang off the post, but they couldn't even put a single goal on the scoreboard. Keith Aulie and Benoit Pouliot each dropped his gloves in the game, but neither managed to provide the Bolts the spark they needed.
Alex Ovechkin also added a goal against the Ottawa Senators on Thursday night, padding his lead in the goals race over Stamkos by three goals. Ovechkin has 32; Stamkos has 29.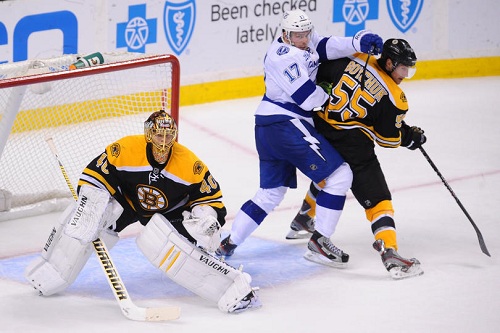 Martin St. Louis, despite failing to register a point against Boston, likely locked up the Art Ross Trophy as news broke on Thursday that Pittsburgh's Sidney Crosby likely won't return until the playoffs begin. St. Louis leads Crosby and Stamkos by two points.
With the regular season coming to a close on Sunday, most teams have one or two games remaining, meaning Ovechkin will be tough to catch and Stamkos and St. Louis will likely duke it out for the points title.
The Lightning's final game will take place Saturday night at the Tampa Bay Times Forum against the Florida Panthers, the worst team in the NHL in terms of points. The puck drops for the last time from Tampa Bay this season at 7 p.m. ET.
Boston has two games remaining; they'll play Saturday at the Washington Capitals before hosting the Senators in the season finale on Sunday night. Both games will start at 7 p.m. ET.