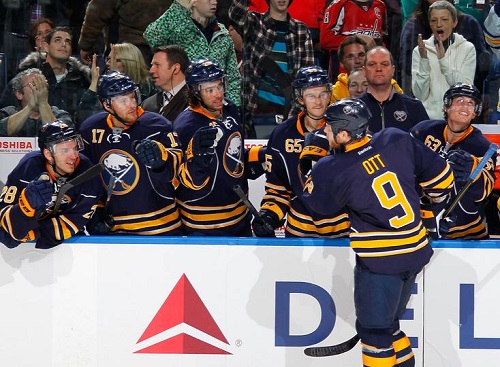 In hockey, we all know that scoring 500 goals is the benchmark. If you can reach that number, there is a good chance that you'll make it to the Hall of Fame. While he may not score 500 goals, this past week, Buffalo Sabres Steve Ott scored his 100th career NHL goal against the Florida Panthers.
Imagine as most kids do when growing up, you want to play in the NHL. You want to wear the sweater of your favorite team and represent you family well. To get there, it takes a lot of hard work. Practices at 6AM, mom and dad driving you to tournaments on the weekends. Attending camps and clinics to hone and improve on skills. The big decision to play juniors or collegiately. It takes a lot of hard work, dedication and passion to reach the utmost level. Let's take a look at Steve Ott and his road to scoring 100 goals.
Ott played junior hockey for the Windsor Spitfires of the OHL. In 3 seasons there, he scored 116 goals and accumulated 237 points. The Dallas Stars drafted him with the 25th overall pick in the 2000 NHL draft. Ott would not make his NHL debut until the 2002-2003 season where he appeared in 26 games and scored 3 goals. The 2004-05 season was a complete loss due to the lockout and the 2012-2013 season was limited to 48 games due to another lockout. It took Ott over 10 years since his NHL debut and over 660 NHL games to finally reach 100 goals.
To reach 100 goals or 500, one has to be able to score goals more frequently than others which is a given. It is very difficult to score a lot of goals if one is on the 4th line with the enforcers of your team. It is also important to stay healthy. 82 games can be difficult to play because hockey is such a rough sport on the body. Teams allow for maintenance days where players are allowed to recuperate. It also helps to not have any work stoppages. The top scorers in the league who would have played in the 2004-2005 season probably would have an additional 30-40 goals.
There are only 2 other current Sabres with 100 or more goals. Matt Moulson leads with 133 and Drew Stafford has 127. While any of these 3 Sabres may never score 500 goals, reaching 100 goals is a milestone in itself. To play the game you love, work hard and reach a milestone is a pretty cool feeling.