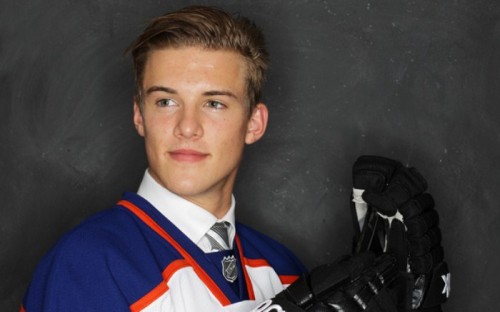 The Edmonton Oilers have been rebuilding for years now, and in the past year in particular have acquired some solid players, whether through trades or free trade frenzy, and have been working to incorporate these players into the team. Some have been pretty marked successes, while others have perhaps not meshed quite so well.
When a team is obviously struggling as the Oilers are, acquiring new players is good, as it has the potential to hopefully create some degree of change. However, the revolving door is also not the best strategy. Hockey is not an individual sport. In order to make it, a player obviously needs to work extremely hard on an individual level to refine and cultivate their skill as a player. These players comprise a team, however, and a team has certain dynamics – no player can succeed on his own, regardless of how talented he may be. One player cannot take on an entire opposing line-up. Incorporating fresh blood can have a huge impact, but the reality is that it takes awhile for players to learn to play together, to anticipate each other on the ice, it takes awhile for it to all work together. And this won't happen if the line-ups change on a yearly basis and no one has a chance to get used to one another.
So with that in mind, what are some things that can be done with players that are already in the organization to potentially help the core young players that Edmonton is focusing their rebuild around? There is always a lot of debate regarding when players should be moved up from the minors, and there is sometimes a lot of shuffling between the AHL and NHL for certain players, but let's turn to who the Oilers already have as potential sources of fresh blood to move up into the big leagues (or keep into the big leagues, if they've recently been moved up from the AHL affiliate), individuals who at least have some familiarity with the organization.
1. Oscar Klefbom
Klefbom is probably my favorite pick; there was a lot of buzz about him awhile ago that has since somewhat faded, but he has a potential star next to his name in my book. While only 20 years old, he's a hulk of a man, weighing in at 213 pounds at the end of his last season. He could easily bulk up a few more pounds and put on some extra muscle. His skating is good, he's getting used to the ice and how to spot potential situations and react accordingly. He's also had a little experience with the Oilers themselves, as in the latest season he was recalled from the Oklahoma City Barons, the Oilers' AHL affiliate. He even has an NHL goal to his name – March 28, 2014, against the Anaheim Ducks. He could be a good option, potentially on defense, where they're so desperate to find someone who can click.
I've talked about Nurse before in separate articles, so I won't go into him in depth here – suffice to say, the Oilers have been toying with when to bring him up for awhile. He has a fair bit of experience and potential. While Edmonton definitely can't justify two green defenders, some fresh blood on their swiss cheese defensive line might not be the worst thing.
3. Martin Marincin
Marincin spent some time with the Oklahoma City Barons before the Oilers brought him onto the main roster. In the 2013-14 season, he made his NHL debut against the Colorado Avalanche. Marincin even has some international play on his record, as the he was one of the hockey players chosen to head to Sochi, Russia for the 2014 Olympics, playing on the Slovakian team. His skills are good – he passes well, skates well, he can get to the puck, he's a fairly steady pick. One thing that might help him is, quite simply, a little more time in the gym. Some players have slimmer builds than others, but this 6'5 youth clocks in at under 200 pounds, pretty small for his staggering height. If he put on some more muscle, he could really be a force to be reckoned with and withstand all those body checks with ease.
4. Mark Arcobello
Arcobello has been shuttled between the Barons and Oilers for the past few seasons.For the two seasons 2010 – 2012, he was with the Barons, and then the Oilers brought him up in 2012- 2013 for a season. However, he only racked up one game played, so I don't think it really qualifies. Seemingly determined to prove his worth, he did fairly well in the 2012-13 season with the Barons, playing 74 games and tallying up 22 goals and 46 assists. In the most recent season, he played 41 games with the Oilers and netted four goals – not that impressive, true. However, there are a lot of impressive forwards in the young core. He might not be a flashy point monster, but he could be a good choice for a steady guy who will work hard and hustle on the ice, and play a good supporting role to some of the more central players on the team.