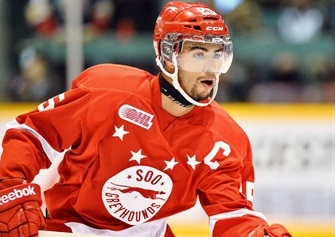 At just 19-years-old, the Edmonton Oilers top prospect Darnell Nurse has made great strides in his development, and is looking to make the jump to pro-hockey sooner rather than later.
Drafted seventh overall in the 2013 NHL Entry Draft, Nurse is a big defenseman standing at 6-3, and clocking in at 192 pounds. The Oilers are in desperate need of a strong, shutdown defenseman, and Nurse will look to make a case for himself at the Oilers' training camp this September.
Following last years' draft Nurse was cut from Edmonton's final roster, but this did not hinder his determined spirit. This season, Nurse captained the OHL's Sault St. Marie Greyhounds, and posted up a very respectable 50 points in 64 games – which is 9 more points than he had the year before with the same club.
And so – like anything – with hard work and a little patience, one is bound to find success. For Nurse, this came when the Greyhounds were eliminated from the post-season, and the Oklahoma City Barons – the Oilers' AHL affiliate – were on the cusp of elimination themselves.
After adjusting to the higher tempo in his professional hockey debut, Nurse recorded his first point off an assist in his second AHL game. During the match Nurse played key minutes in the overtime period, indicating that he was able to prove himself to the coaching staff early on.
"We have confidence in him and that's dictated by his play on the ice," said Barons' head coach Todd Nelson. "We definitely have confidence in this player and I think as we go on here and the more games he plays, he's going to get more comfortable."
Well, looking back, it seems that Nurse must have been comfortable because he did his job, and helped the Barons secure a playoff position. However – as is the case with many first round selections – his contributions did not stop there.
To put it simply, Nurse is no stranger to playoff hockey. In three seasons with the Greyhounds, Nurse has appeared in 15 post-season matchups, and has registered 12 points in the process. Further, Nurse registered an assist in game one of the Barons' opening playoff series against the Texas Stars, and used his size to intimidate the opposition.
Nurse fought in his first professional scrap when he took it upon himself to stand up for his teammate Jordan Oesterle, after Scott Glennie – the Dallas Stars eighth overall selection in the 2009 draft – sent him flying into the boards.
Given Nurse's history, however, this should come as no surprise. Over the span of three OHL seasons, Nurse has recorded 268 penalty minutes, proving that he is not afraid to play a physical game. If you do the math, you will find that Nurse has been in the penalty box for roughly 1:44 of every game throughout his OHL career.
But when all is said and done, Nurse played seven AHL games, and is pleased with his performance.
"Obviously, there's challenges with the size and the speed but it's definitely something that I felt a lot more comfortable [with] as each day went by," he said. "I felt I put on a pretty good showing and helped the team as much as I could."
His brief AHL stint was great for gaining experience, but Nurse doesn't plan on hitting the brakes any time soon. His physical presence out on the ice is what defines him as a player with lots of shutdown potential, but there is still work that needs to be done. At times, Nurse will find himself out of position when he goes in for the massive body check.
Now, as Don Cherry likes to point out, the same can be argued against the Montreal Canadiens' P.K Subban. Like Nurse, Subban will go in for the big hit, and often find himself out of position at key points in the game. However, Subban is still successful, and has established himself as one of the NHL's elite defenseman.
But to meet his goal and make the NHL, he should plan on doing things the 'cookie-cutter way,' and personalize the games' smaller aspects at a later date.
"I think the biggest thing for me is in the small details in the d-zone and in my positioning," he said. "For me it's going to be a big year to go in the weight room and push myself to get into a different level."
With his commanding size – and surprisingly high point totals for a player known to dominate the defensive side of the puck – the future looks bright for this young star. With a few AHL games now under his belt heading into training camp next fall, Nurse believes he will be ready to make an impression and – hopefully – log some minutes along the Oilers' blue line.
"That's definitely my goal," he said. "It's going to take a lot of work and [it's] something that I'm going to prepare myself [for] as much as I can. [I want] to go out there and put on a good showing."
There is no question that Nurse will make his NHL debut soon, and when he does, opponents had better keep their heads up. The future is bright for this kid, and as he puts it himself: "It's exciting to know what lies ahead."