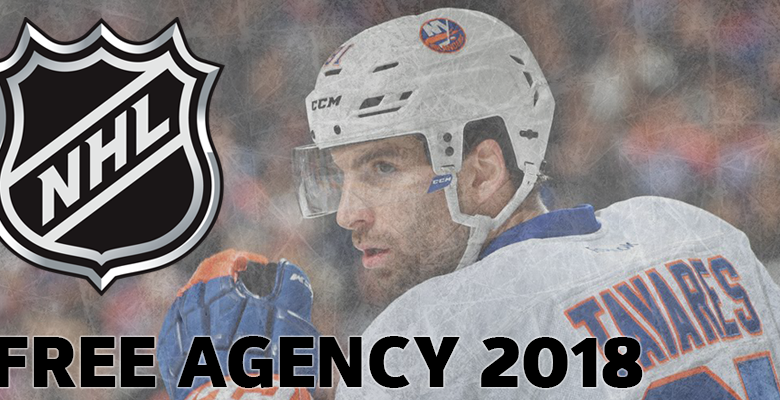 July 1, 2018, had been the most anticipated day for hockey fans alike since Alex Ovechkin and the Washington Capitals hoisted the Stanley Cup back in early June. The NHL's first day of 2018 UFA took place on Sunday, July 1, and while the New York Islanders and their fan-base were disappointed there were other cities that gained all-star caliber talent to their NHL rosters.
Here's everything that you need to know and a recap from the NHL's first official day of 2018 UFA.
Complete Coverage From HOHM Here
Sorry, but the 2019 UFA class is getting slimmer by the signing. Drew Doughty is staying put in Los Angeles with the Kings. Erik Karlsson, is now waiting for his offer…
It's official! Drew Doughty signs with the LA Kings for an AAV of $11,000,000.https://t.co/JGgQxApJtY

— LA Kings (@LAKings) July 1, 2018
The San Jose Sharks weren't able to sign John Tavares, but they did lock up a key player for the team's success moving forward. Forward Logan Couture and the Sharks agreed to an eight-year contract extension worth $64 million.
Reports: @SanJoseSharks, Logan Couture finalize eight-year contract extension https://t.co/SoVysEgvLk pic.twitter.com/l2pfxvLxog

— Sharks on NBCS (@NBCSSharks) June 30, 2018
It was reported on Friday that forward James van Riemsdyk was going to sign with the team that drafted him second overall at the 2007 NHL Draft. The Philadelphia Flyers and JVR signed a five-year deal worth $35 million. The New Jersey, native spent his first three seasons with the Flyers before being traded to the Toronto Maple Leafs during the 2012 offseason.
WELCOME BACK, @JVReemer21!!

The #Flyers have agreed to terms with free agent LW on a five-year contract. More info: https://t.co/N2eHBtKBTV pic.twitter.com/Qmd28y2EvF

— Philadelphia Flyers (@NHLFlyers) July 1, 2018
The Dallas Stars missed out on signing Tavares too but added depth between the pipes, after they signed goaltender Anton Khudobin to a two-year deal.
The Stars have signed goaltender Anton Khudobin to a two-year contract with an AAV of of $2.5-million per year. https://t.co/C0A61ZO8lN

— Dallas Stars (@DallasStars) July 1, 2018
To a bit of a surprise, forward Paul Stastny signed with the Vegas Golden Knights on a three-year deal worth $19.5 million. It was believed that the center would re-sign with the Winnipeg Jets or head back to the St. Louis Blues.
WELCOME TO VEGAS, PAUL STASTNY!https://t.co/LMuf3y5GuF

— Vegas Golden Knights (@GoldenKnights) July 1, 2018
Yes, Matt Cullen still plays hockey and is returning to the Pittsburgh Penguins.
DAD IS COMING HOME!

The Pittsburgh Penguins have signed forward Matt Cullen to a one-year contract for $650,000.

Read more: https://t.co/68U0DvXCDY pic.twitter.com/RfDf998lIr

— Pittsburgh Penguins (@penguins) July 1, 2018
Fans must have seen this one coming — forward Jay Beagle earned his payday after helping the Capitals end their Stanley Cup drought. Though, he more than likely won't be winning any more Cups by heading out west to the Vancouver Canucks.
OFFICIAL: #Canucks sign Jay Beagle to a four-year contract. https://t.co/ojc6ihxXUU

— Vancouver Canucks (@Canucks) July 1, 2018
This is an underrated signing. Defenseman Ian Cole is a commendable addition to the Colorado Avalanche's blueline, as the Avs look to get back to the promised land sooner rather than later.
Very excited to start this new chapter of my career in Denver with the @Avalanche. Looking forward to help build on this team's success. Huge thank you to everyone who helped me get to here – family, friends, and all my past teammates and organizations #GoAvsGo

— Ian Cole (@ICole28) July 1, 2018
This stings the New York Islanders and their faithful fan base on the Island, but John Tavares departed the Orange and Blue and signed a seven-year deal worth $77 million ($11 million AAV) with the Toronto Maple Leafs. While Tavares spent almost a decade in the Big Apple with the Islanders this shouldn't come as a surprise and he's headed back home to join a Cup contender in the Leafs. Things have changed for Toronto, drastically.
Confirmed: the #Isles are out of the running for John Tavares. https://t.co/aoNlMHmixy

— Arthur Staple (@StapeAthletic) July 1, 2018
Not everyday you can live a childhood dream pic.twitter.com/YUTKdfMALl

— John Tavares (@91Tavares) July 1, 2018
Welcome home, @91Tavares. pic.twitter.com/14Weo1ANlS

— Toronto Maple Leafs (@MapleLeafs) July 1, 2018
The Buffalo Sabres are hoping that goaltender Carter Hutton can solve the team's recent history of struggles between the pipes. This will be his first go at being a bonafide starting goaltender at the NHL level.
OFFICIAL: We've agreed to terms with goaltender Carter Hutton on a 3-year contract.

Welcome to Buffalo, @CarterHutton! pic.twitter.com/CXnfaf9GNO

— Buffalo Sabres (@BuffaloSabres) July 1, 2018
After a career-high 66 points (16 goals, 50 assists) last season with the expansion Vegas Golden Knights, forward David Perron is headed back to St. Louis with the Blues. The former St. Louis first-round draft pick (2007) signed a four-year deal worth $16 million with the Blues.
Third time's the charm! Welcome back, @DP_57. https://t.co/1BY5ZjxRMe #stlblues pic.twitter.com/xTdTvq945c

— St. Louis Blues (@StLouisBlues) July 1, 2018
The Blues also added more depth and down the middle of the ice when St. Louis signed center, Tyler Bozak. The former Toronto Maple Leaf forward has totaled 365 career points in 594 games.
Tyler Bozak, who has played his entire career with the Toronto Maple Leafs, has signed a three-year deal with the Blues. https://t.co/33TUcuU5oD #stlblues

— St. Louis Blues (@StLouisBlues) July 1, 2018
Considering that Toronto cashed in on this year's biggest UFA, the Maple Leafs let a number of skaters walk which also included forward Leo Komarov. The 31-year-old had seven goals and chipped in 12 helpers for a total of 19 points in 74 games played with Toronto last season.
Leo Komarov signs with the Islanders. Four years, $12M.

— Chris Johnston (@reporterchris) July 1, 2018
After missing the Stanley Cup Playoffs for the first time since 2008, the Chicago Blackhawks added some grit and veteran depth on Sunday. The Blackhawks signed forward Chris Kunitz, defenseman Brandon Manning and goaltender Cam Ward. Kunitz and Ward have both won Stanley Cups, and it should be interesting to see how Ward performs with a better defensive unit playing in front of his cage.
Take a closer look at the three newest members of the Chicago #Blackhawks: Chris Kunitz, Cam Ward and Brandon Manning! pic.twitter.com/nTrpCwUZVP

— Chicago Blackhawks (@NHLBlackhawks) July 1, 2018
Forward Valeri Nichushkin will return to the NHL after spending the past two seasons in the KHL. Nichushkin, 23, was originally drafted by the Dallas Stars back in the 2010 NHL Draft with the 10th overall selection.
Welcome back, Val!

The Stars have signed right wing Valeri Nichushkin to a two-year contract with an AAV of $2.95-million per year. https://t.co/6gloiavkvH

— Dallas Stars (@DallasStars) July 1, 2018
Former New York Rangers captain, Ryan McDonaugh, signed a seven-year contract extension with the Tampa Bay Lightning worth $6.75 million (AAV). The defenseman was acquired by Tampa Bay along with forward, J.T. Miller, at the 2018 NHL Trade Deadline.
MAC'S BACK!

We have signed Ryan McDonagh to a seven-year contract extension worth $6.75 million (AAV) per season. The extension will commence with the 2019-20 season.

📝: https://t.co/2xT3xYpq6b pic.twitter.com/TMYwgVEALh

— Tampa Bay Lightning (@TBLightning) July 1, 2018
Another underrated signing — the Columbus Blue Jackets signed center Riley Nash to a three-year deal and he'll more than likely be worth every penny for the Jackets moving forward.
Riley Nash to Columbus. 3 years, $2.4 mil per.

— Darren Dreger (@DarrenDreger) July 1, 2018
He's back. 
Tomas Plekanec re-signed with the Montreal Canadiens on a one-year deal ($2.25 million), after the center was traded by the Canadiens to the Toronto Maple Leafs at the 2018 NHL Trade Deadline.
As we speculated for a while now, the Canadiens will announce the return of Tomas Plekanec today once the market opens. One-year deal. He had some serious interest from Chicago, I believe, but returns to the Habs

— Pierre LeBrun (@PierreVLeBrun) July 1, 2018
Goaltender Jonathan Bernier will dress for his second Original Six franchise when he straps on the pads for the Detroit Red Wings this season. Bernier, 29, had a solid showing between the pipes last season with the Colorado Avalanche and helped the team reach the Stanley Cup Playoffs for the first time since 2014.
The @DetroitRedWings wasted no time in #NHLFreeAgency. They've signed Jonathan Bernier to a three-year deal.

Details: https://t.co/pDeMzsDVXy pic.twitter.com/bv7lcCt7Ea

— NHL (@NHL) July 1, 2018
Ryan O'Reilly's wish was granted after the dynamic center was traded from the Buffalo Sabres to the St. Louis Blues. Though, Buffalo may have the last laugh in this deal with the extensive return the Sabres received on their end of the deal — see details below.
BUF gets 1st in 19, 2nd in 21, Tage Thompson, Vladimir Sobotka,Patrick Betglund for Ryan O'Reilly. No salary retained. STL pays ROR signing bonus.

— Bob McKenzie (@TSNBobMcKenzie) July 2, 2018
Tweet your NHL related questions to @KMcKenna_tLT5  to have them answered & be sure to use the hashtag #McKennasDigest
Kyle McKenna covers the NHL for Hooked On Hockey Magazine. He can be reached on Twitter (@KMcKenna_tLT5) 
Love Reading About Hockey?

Subscribe to keep up-to-date with the latest and most interesting hockey news!
| | |
| --- | --- |
| | We hate spam just as much as you |