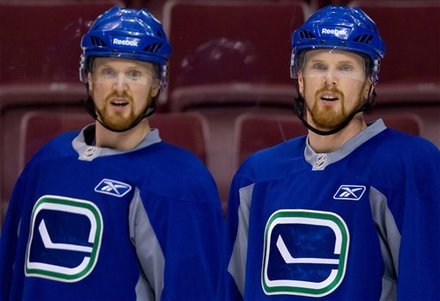 The new season is just around the corner, and that means NHL betting season is also about to begin. Vegas has already listed the odds of the favorites to win each of the conferences and to win the Stanley Cup (Rangers and Penguins tied for first at 8:1, Flames, Islanders, and Jackets tied for last at 100:1; shocker), as well as a few other little prop bets that serious betters go nuts over. But they won't release every fact that can be bet on. So I was curious as to what didn't make the cut, and I managed to hack into the city of Las Vegas itself to find out the rejected prop bets and their odds, and I've listed them here for your viewing pleasure:
Over/unders:
Columbus Blue Jackets wins (in a 48-game season): 8.5
Date the Columbus Blue Jackets are mathematically eliminated from playoff contention: January 20
Scott Gomez's golf handicap: 7.5
Tomatoes thrown at Gary Bettman during Stanley Cup presentation: 18,200 (that's a specific number for a reason, wink wink)
Rick DiPietro games played: -0.5 (a total of zero games gives people who took the over the win…still, very few takers)
Times Doc Emrick mentions that Dennis Seidenberg is from Germany: 7.5
Goals scored by Steven Stamkos: 57.5
Assists by Marty St. Louis: 57.5
Periods it takes for the St. Louis Blues to let up a goal: 8.5
Periods it takes for the St. Louis Blues to score a goal: 7.5
Amount of prospects for which Jarome Iginla is (inevitably) traded when the Flames realize they aren't going to make the playoffs: 3.5
Attempted shots by Alex Ovechkin, now that he has a coach that lets him play (in 48 games): 492.5
Breaths taken by Daniel Sedin over the course of the regular season: 602,901
Breaths taken by Henrik Sedin over the course of the regular season: 602,901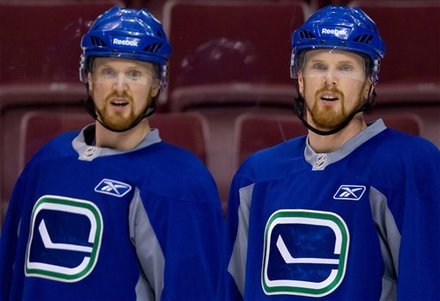 Average fan attendance for Phoenix Coyotes regular season games: 5,121.5
Freeze-dried meals in Tim Thomas' bunker: 365.5
Dustin Byfuglien's weight on Jets' opening day: 345.5
Total amount of fragile old bones shattered by Dallas Stars' starters: 205.5
Smiles by Lubomir Visnovsky after being forced to report to Long Island: .5
NHL Teams painting "Thank you fans!" or a similar sentiment on the neutral zone ice: 29.5 (the "swing" team is your favorite team)
Total fans that give a crap that the NHL is trying to make amends for the lost time: 12.5
Amount of John Tortorella post-game press conferences that end abruptly: 47.5
Average increase in beer prices across the board for owners to make up for any money lost from the lockout: $1.74
Number of security guards needed to "gently escort" Ilya Kovalchuck back to New Jersey: 6.5
Save percentage for goalies over Flyers/Penguins games: 71.5%
Seconds it takes for Ilya Bryzgalov to let up a goal: 3.5
Combined rumors made up by thefourthperiod.com and the hockeyyinsiderr Twitter account: 550.5
Combined rumors made up by thefourthperiod.com and the hockeyyinsiderr Twitter account that come true: .5
Fans that stay true to their promise of refusing to watch the same amount games this season as the number of games that were cancelled as a result of the lockout: .5
Odds:
Montreal's head coach Michel Therrien is fired at any point during the regular season: 2:1
Montreal fans get upset with the replacement because he can't speak French: EVEN
Leafs are on the verge of making the playoffs for the first time in nine years, only to have it slip away at the last minute: 5:1
Brian Burke is responsible for the collapse: EVEN
Roberto Luongo is traded to a playoff contender: 15:2
Detroit Red Wings make the playoffs: 1:12
The Winnipeg Jets aren't screwed over by having to play in the Southeast Division despite being in Western Canada: 90:1
Every Ottawa Senators home game against the Canadiens and Leafs have more fans of the away team than the home team: 3:1
The Buffalo Sabres finish the regular season with more fighting majors than goals: 5:1
Sidney Crosby's playoff "beard" doesn't look ridiculous: 50:1
Jeff Skinner hits puberty: 8:1
Despite being eligible to play in only approximately half of the regular season, Raffi Torres doesn't receive another suspension this year: 7:1
Raffi Torres immediately cheapshots someone the moment his suspension is over: 7:1
The Staal brothers in Carolina don't ruin locker room chemistry by fighting each other over something menial, like who gets to be the first line center in their cooperative NHL13 matches: 2:1
Edmonton Oilers score the #1 overall draft pick: EVEN
Los Angeles media mistakes the Kings for the Sacramento Kings: 2:1
ESPN mentions a player's name other than Sidney Crosby or Alex Ovechkin: 15:1
Nashville can scrape together the money to pay Shea Weber: 7:3
The Vancouver Canucks win the President's Trophy: 5:2
The Vancouver Canucks don't collapse in the playoffs: 52:1
The San Jose Sharks make the playoffs, but can't put it together when the time comes: EVEN
Wade Redden is sent to the minors or his contract is bought out the by Blues before season's end: 3:2
The winner of the Stanley Cup doesn't have their championship tainted by people criticizing the accomplishment (especially fans of the rival team), claiming that it doesn't count because it was done in half a season: 30:1
Jeremy Jacobs apologizes to the fans in any fashion for them losing several months of one of the things they love most because millionaires and billionaires couldn't agree on pennies: 1,000,000:1
Love Reading About Hockey?

Subscribe to keep up-to-date with the latest and most interesting hockey news!
| | |
| --- | --- |
| | We hate spam just as much as you |