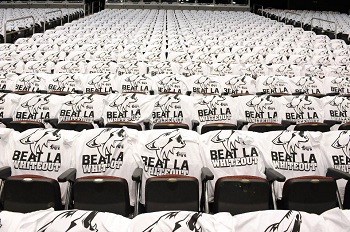 If you weren't aware (read- live under a rock) that this little lady is a die-hard Phoenix Coyotes fan, then I'm stating so here, and doing it in a big way.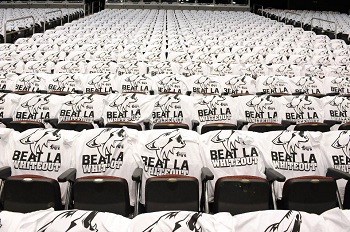 I cover the Coyotes as a contributing writer for Hooked on Hockey Magazine and post quite a bit about the 'Yotes on my personal hockey blog. I've been following the team since their first game at America West Arena in Phoenix circa 1996. I was 8 years old. I fell head-over-heels in love with the Coyotes.
Now people are starting to pay attention to these boys. I appreciate that their success in the playoffs has sparked so much interest in those who had never before followed the desert dogs, but, there is always the debate over whether bandwagoners should be welcomed or cold-shouldered.
I'm inviting everyone, those who know what it's like to sit at a Coyotes game when there are less than 5,000 people in attendance, and those who are buzzing about this team they know so little about (it's okay, I forgive you), to watch me in all my 'Yotes dedication fly back to my hometown and cover this series from ON-SITE.
Yes, there are some fantastic Coyotes writers who I encourage you to check out, including Dave Vest, Sarah McLellan (personal favorite), Dan Bickley, Jerry Brown, Carl Putnam, and John D'Anna. I also will be writing recaps of the 'Yotes home games (fellow HOHM contributor John Orit will report on LA games), but moreso will be taking a personal, first-hand approach to this uncharted territory for the Coyotes in post-season play.
Think "Diary of a Hockey Kid".
Tomorrow, Game 1 day, I'll be landing at Sky Harbor Airport and beginning my coverage of the Coyotes quest for the Cup from the valley of the sun. Watch as I tweet my way through this series with updates that include pictures and video. Experience the action in Phoenix through my Coyotes-tinted glasses and see what hockey in the desert is really like.
Can't. Wait.
Follow me on Twitter @MichelaRicci and keep your eye on @HOH_Magazine for updates!
HOWL!
Oh, and P.s. Since I'm flying home on Mother's Day I'm going to try surprising my mom, and I thought my dad's suggestion to keep the secret was pretty amusing. My mother, like many others, loves showing off her kids and therefore scours the internet/Facebook to keep up-to-date with what I'm doing. This would make it difficult to prevent her from seeing that I'm headed home, and so my dad told me he would unplug the router and tell her the internet is broken. Silliness… Hope she doesn't find out! Shh…