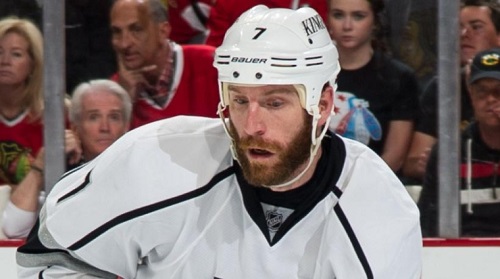 All Dorothy needed were a pair of ruby red slippers to return home. All Rob Scuderi needed was an offer from Ray Shero and the Pittsburgh Penguins.
Scuderi and the Penguins agreed to a four-year deal, with an average annual value of $3.375 million. With the Los Angeles Kings, the 34-year-old blueliner tallied 12 points (1G, 11A), for a minus-6 ranking in the truncated 48-game regular season. He posted three helpers in 18 playoff games this past postseason, for a plus-9 ranking,
"When moving your family, the transition can be kind of odd and awkward," Scuderi told the media on Friday. "I thought going to Pittsburgh, the familiarity with the area would make for an easier transition."
Drafted fifth overall in 1998 by the Penguins, Scuderi is a product of the club's development system—playing 305 games with the AHL affiliate, Wilkes-Barre/Scranton Penguins. Scuderi posted 88 points (8G, 80A) with Wilkes-Barre/Scranton, proving that he can play at both ends of the ice.
With the Penguins, Scuderi posted career bests in points (16) and plus-minus (+23) in the 2008-2009 season. He became a free agent and signed with the Los Angeles Kings.
Scuderi effectively captures the heart and passion of Penguins' hockey. The city has always treasured its athletic heroes for their dedication to hard work and improvement. Mario Lemieux, Paul Coffey, and Sidney Crosby are examples of the blue-collar work ethic that the city openly embraces. Scuderi works hard on the blue line, holds himself accountable for errors, and tries to help out in anyway possible.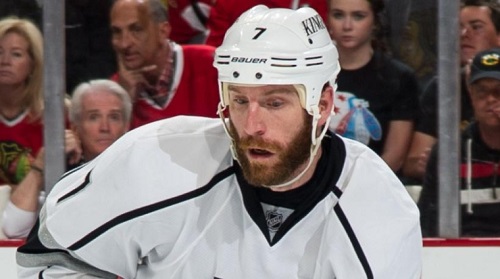 Having played nine seasons in the NHL and won two championships, Scuderi brings not only a veteran presence to the Penguins' locker room but nostalgia. Scuderi won his first Stanley Cup in 2009 with the Penguins and hopes to recapture the glory days once more.
The gritty defenseman felt at ease reuniting to his former club after conversations with Shero.
"One of the reasons I felt comfortable coming back is that the Penguins said that was what they were looking for. I want to make sure I'm a good fit for what they need and that together we can do some good things…And most important, the team is in a win-now mode."
The opening day of NHL Free Agency had a definite theme: homecoming. Scuderi, much like Andrew Ferrence and David Clarkson, factored in a sense of home and belonging into their decisions to move on. One thing is for sure, the Penguins are not complaining.
"There are some things that in my job you wish for a do-over on, and this is one of them," said Shero on Friday.
Team Notes
-The Penguins have resigned forward Craig Adams to a two-year contract, with an average annual value of $700,000.
-Matt Cooke has signed with the Minnesota Wild, agreeing to a three-year contract, with an average annual value of #2.5 million
-Jarome Iginla has signed with the Boston Bruins, agreeing to a one-year contract worth $6 million