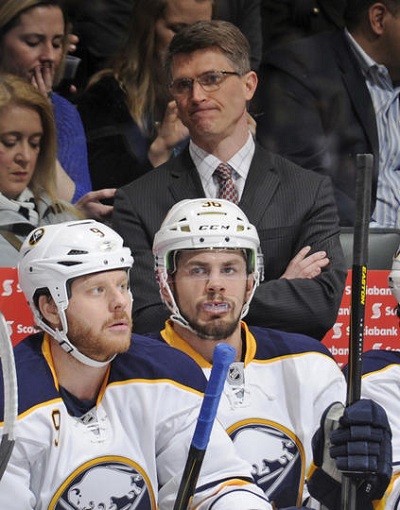 The Sabres did not get the fresh start they wanted under new interim Head Coach Ron Rolston.
Dion Phaneuf scored once and James van Riemsdyk notched two in Toronto's 3-1 victory over the Buffalo Sabres at the Air Canada Centre on Thursday.
The Sabres have lost three straight and now bear a 6-11-1 record. They were booed off the ice in Tuesday's 2-1 loss to the Winnipeg Jets. Former Head Coach Lindy Ruff deemed that defeat as "embarrassing" and it proved to be his last game behind the bench for Buffalo. He was the NHL's longest-tenured head coach with 16 years under his belt.
Ryan Miller continued his exceptional play tonight, but yet again, he didn't receive the help he needed from any of his teammates as they handed the win to the home crowd.
Both goalies started the game off hot. Miller set the tone by robbing Leo Komarov with a stellar glove save just 1:28 into the game. Ben Scrivens was just as sharp as he denied Thomas Vanek of two rips a few minutes later.
"I think we had a good first period," Ennis said. "We haven't had a good first in a little bit so that was a positive."
The Sabres outshot the Leafs 13-10 in the opening period. Tyler Ennis scored the only goal in the first as he bounced a pass off the board that connected with Drew Stafford, who gave him a good feed to knock the puck in past Scrivens.
The Leafs started off the second on a power play as Alexander Sulzer's two-minute holding penalty carried over from the first. Phaneuf fired a laser that Miller had no chance on with just four seconds remaining in the penalty.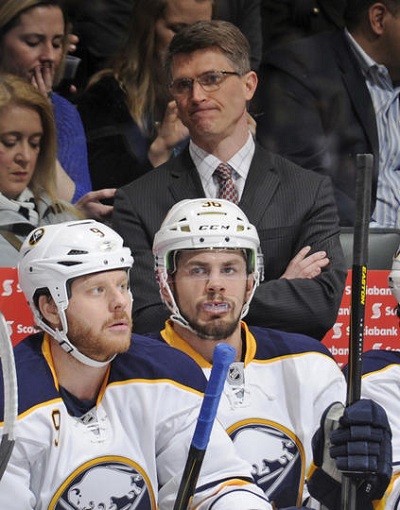 Steve Ott tried to regain the lead for the Sabres but the puck was ruled no goal as Kevin Porter was assessed a questionable goalie interference penalty.
"I was a little surprised on that call," Miller said. "If I'm that far out and I'm leaning into a play, I expect to have to recover. We didn't get that benefit."
James van Riemsdyk gave Toronto the lead as he tapped in a shot past Miller off a two-on-one with Phil Kessel at 18:04 in the second.
Van Riemsdyk scored his second of the night, securing the win for the Leafs on a power play goal at 14:28 in the closing period.
The Sabres were fortunate enough to go on the power play with four minutes left in the game, but continued to struggle on the man advantage and were unable to capitalize. They are 5 for 59 on power play opportunities in the past 17 games.
Miller had 33 saves in tonight's game. He now has a 2.87 GAA and a .915 saving percentage.
Three Stars:
1. James van Riemsdyk
2. Phil Kessel
3. Ben Scrivens
NOTES:
• Ron Rolston began his new role as interim Head Coach as Lindy Ruff was relieved of his duties on Wednesday
• Mikhail Grigorenko was scratched in his third straight game
• Cody McCormick cleared waivers and was sent to the Rochester Americans
• Kevin Porter made his Buffalo debut tonight and had 14:34 TOI.
• Nathan Gerbe showed some heart and went at it with Toronto's Phaneuf.