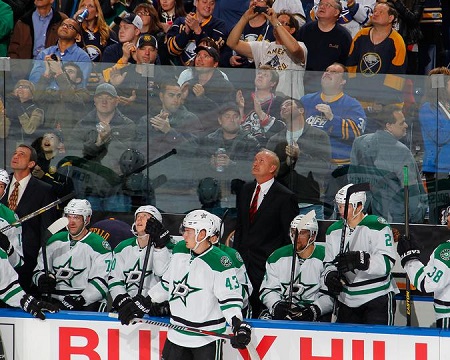 Lindy Ruff made his return to the First Niagara Center as a visiting coach. Ruff, who had coached the Buffalo Sabres from 1997 to 17 games into last season, got the last laugh against his former team. Ruff's Dallas Stars beat Buffalo 4-3. "It was strange coming back" said Ruff
Matt Moulson, who came over in the Thomas Vanek trade, had a great debut as a Sabre. The newly acquired forward had 2 goals and logged about 20 minutes of ice-time. Moulson, who has scored 30 or more goals three times in his career is off to a great start this season. He has 8 goals in 12 games, 5 of which are on the power-play.
Steve Ott was able to score a power-play goal in the 2nd period. Buffalo couldn't close the gap on the Stars. Although Buffalo had a few chances late in the 3rd period, they just couldn't capitalize. Ryan Miller made 25 saves on 29 shots. He is now 1-9 on the season.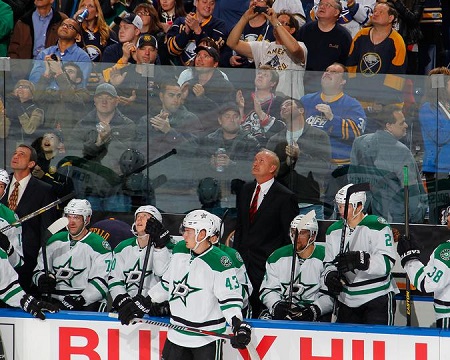 Thoughts:
Buffalo has got to play better in the first period. So far this season, they are being outscored 19-2. Perhaps if the can prevent these slow starts, they could play better hockey.
Nice debut by Matt Moulson. He will have plenty of opportunities to score more than 30 goals for a 4th time in his career.
As soon as there is a trading partner for Ryan Miller, he will be out of Buffalo. GM Darcy Regier will look to add more draftpicks and re-build the Sabres through the draft.
The Buffalo Sabres had a tribute video of Lindy Ruff during the game. "Tribute was awesome" and "fans of WNY are tremendous" said Ruff.
Buffalo next plays this Thursday on the road vs. the New York Rangers.