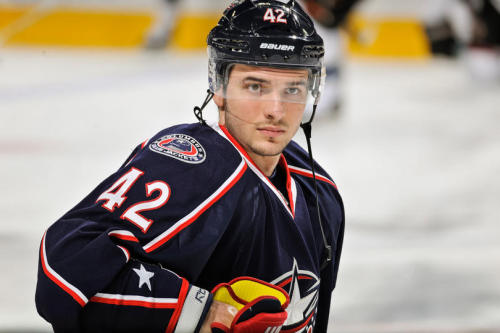 It's been no secret that the Columbus Blue Jackets' season has been a massive disappointment. Injuries, inconsistency and bad luck have plagued this team and looks to have doomed them to a finish that will be somewhere near last place.
So it confused me a bit when this rumor made the rounds, courtesy of TSN's Aaron Ward:
One of the trade options EDM is looking at for David Perron is with Columbus Blue Jackets.EDM focus maybe on center Artem Anisimov. #TSN
— Aaron Ward (@TSNAaronWard) November 26, 2014
Perron has been the subject of rumors for a while now, so that's not surprising. The rest of this scenario, though? It doesn't make a lot of sense. First of all, it doesn't make sense because while the Oilers need a center, Anisimov isn't the answer. He's at his best playing third line minutes and providing a quality two-way effort. He's got 40-point potential (max) and would be a good fit on a team in need of a third-line center. But the Oilers need someone to fill their second-line center roll and if they think Anisimov is that guy, they're only going to be disappointed.
For the Blue Jackets, meanwhile, it doesn't make sense to take on Perron's $3.8125 million cap hit for the next two years and it would be somewhat of a sideways move that won't make this season go any more smoothly. Sure, Perron has 30-goal potential and might look good alongside Ryan Johansen, but it's not like Perron has blown the doors off in terms of his offensive output before last year's 28-goal effort.
Overall, it just seems like a sideways move for the sake of making a move. Anisimov isn't the problem and moving him for a slightly better winger isn't going to fix things. This season has been referred to as "the lost season" and it's just that: lost. The injuries were too much to overcome and now it's time to look to 2015-16.
Whether Perron fits into those plans or not remains to be seen.
Follow me: @2PSBlog