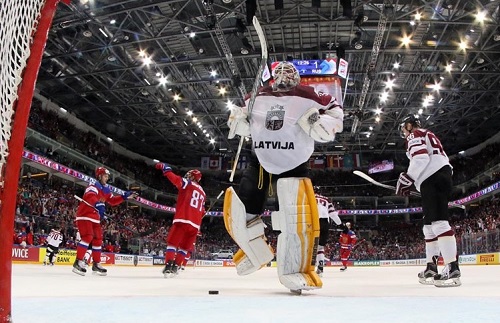 Team Russia needed to make a statement.
Following a shutout loss to the Czech Republic and a narrow victory against Kazakhstan, the host nation of the 2016 IIHF World Championships was misfiring on offense and porous in its own zone.
On Monday, the Russians changed their fortunes.
Backstopped by Sergei Bobrovsky's 27-save showing, Russia exploded, pouring four on team Latvia en route to the second-largest shutout victory of the tournament.
From the jump, head coach Oleg Znarok's men swarmed the Latvian zone, throwing 13 shots at Elvis Masalskis' cage in the first period. In spite of the shot volume, Russia couldn't solve the HC Lugano netminder, and with Bobrovsky dazzling in his own net, the game entered the first intermission locked in a scoreless draw.
That scoreline changed in a matter of seconds.
29 seconds into the second frame, Chicago Blackhawks left winger Artemi Panarin popped a bad-angle shot past Maslaskis, sparking an offensive deluge for the diminutive skater. Minutes later, the native of Korkino, Russia, assisted on Evgeni Dadonov's second goal of the tournament, helping to widen the Russian advantage to two.
On the other end of the ice, Bobrovsky held his own, turning aside 10 attempts and helping to kill three consecutive Latvian power plays. Anchoring the competition's second-most penalized squad, the Columbus Blue Jacket held strong, despite the Russians netting 35 penalty minutes to Latvia's eight.
The third period brought more of the same: Panarin assisted on Vadim Shipachyov's frame-opening tally before slotting home the brace, ending his superlative night by scoring the match's only power play goal.
Reversing his abysmal showing against Kazakhstan, Bobrovsky clinched the shutout with a 10-save performance in the game's final period, snuffing three Latvian power plays in the process.
Following their second consecutive victory, Russia sits second in Group A–pulling six points from a possible nine, the team has two points to make up on the group-leading Czechs.
With momentum billowing into their sails, the Russians have two days to prepare for their next contest. Squaring up for a date against Denmark at the Moscow Ice Palace on Thursday, they'll have the edge.
Whether or not their penalty-ridden ways will catch up to them remains to be seen.