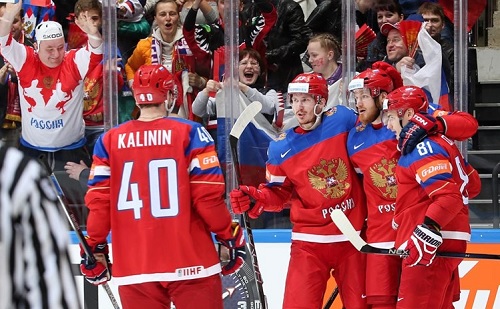 The Red Machine kept right on rolling.
Clashing at the Moscow Ice Palace on Monday, team Russia dispatched team Norway 3-0, backstopped to its second shutout of the group stage by understudy Ilya Sorokin.
Manning the net, the New York Islanders' 2014 third-round draft pick turned aside 27 shots in 60 minutes of work, keeping the Norwegians off the scoresheet in spite of their outshooting his teammates 22-16 over the game's final two periods.
The Russians, looking to get their high-octane offense going early, stormed out of the gates. Doubling their opponents on the shot clock, they whipped 12 efforts at third-choice netminder Steffen Soberg. However, the Valerenga Oslo goaltender didn't cave, steering away each attempt and helping to kill three Russian power plays.
The home team continued to chip away, and 2:09 into the second frame, they finally broke through. Redirecting a Dmitri Orlov slap shot, CSKA Moscow forward Ivan Telegin broke the deadlock, beating Soberg and notching his third goal in the last two games.
Although Norway pushed back, they were unable to solve the Russian defense, helmed by the 20-year old Sorokin. Two power play opportunities went unclaimed, and by the period's end, the red-hot Artemi Panarin would make them pay, finishing a nifty give-and-go play with linemate Vadim Shipachyov to give Russia a two-goal advantage.
Sticking to a similar script, the Russians once again struck early in the third. Ripped wide, rearguard Alexei Emelin's effort ricocheted off of the endboards, floating over the top of the Norwegian net. With Soberg unaware, forward Roman Lyubimov whacked the puck out of the air, swatting it home for his third tally of the tournament. Dmitri Orlov recorded the secondary assist, his second point of the contest.
With each team trading minor penalties, both goaltenders held fast for the remainder of the tilt, bringing it to a 3-0 conclusion in favor of the Russians.
With another match in the books, Russia has clawed its way back to in-group superiority, tying the reigning Czechs at 15 points through six games following their shocking 2-1 defeat at the hands of team Denmark. As group play winds to a close, Russia will have its chance to clinch the top seed in Group A–its final fixture of the stage will take place on Tuesday, May 17th, against third-placed Sweden.