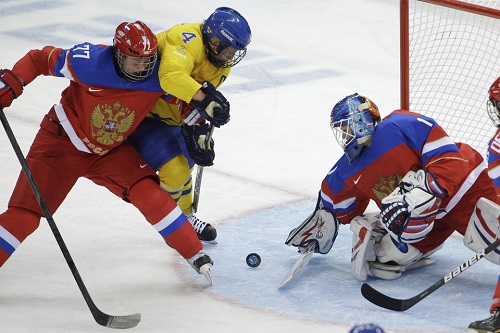 The Russian women's team is on fire so far in this tournament, beating Sweden 3-1 in their most important game so far. The game determined who would win in Group B, and who would face Switzerland and and Finland in the quarterfinal round. Russia earned the top spot in Group B and the easier matchup of the two, the Swiss team.
Sweden and Russia were almost completely evenly matched upon entering the game: they both won their first two games in regulation, and had both already earned a spot in the quarterfinal round. Sweden's advantage was their goaltending – they did not let in a single goal in their first two games – but Russia had the home crowd who has been working in their favour so far at Sochi.
Technically, Russia has three goals against, but Japan's first goal during Tuesday's game was not counted. Before today's game, officials were told to immediately look to the timekeepers box if they had any question or doubt about a shot or a save on net. A little late, but better than nothing.
Just like their first two games, Russia dominated in the first period and had their first power play opportunity less than 30 seconds in. Sweden's Jenni Asserholt got two minutes for boarding, giving her opponents an early advantage. Russia's Yekaterina Pashkevich had some great goal scoring opportunities on the power play, but couldn't manage to get the puck past Sweden's veteran goaltender Valentine Wallner.
Pashkevich, a 41-year-old veteran who came out of retirement last year, made up for her missed opportunities and created a beautiful play on an even more beautiful goal by Anna Shukina at 8:38 in the first. Shukina's first Olympic goal, (assisted by Pashkevich and Shokhina), was not only the result a phenomenal passing play, but it was also the first goal scored against Sweden at Sochi. The crowd at Shayba Arena was the loudest they've been for a Russian women's goal so far, and for good reason. The loudest, that is, until Russia's last goal of the game, but we'll get there.
If the Swedes were gaining any momentum up until that moment, it went away after the goal. They weren't strong on the forecheck, and couldn't keep up with Russia's speed coming up through the neutral zone. They were being outplayed in a game that was supposed to be evenly matched.
Soon after Inna Dyubanok's two-minute body checking penalty had ended, Cecilia Ostberg, who is known for being an instigator on the ice, went to the box for Sweden on a cross checking penalty at 16:43. Before her penalty was up, Sweden went to the box again. Erika Grahm took 2 minutes for tripping at 18:06, and the Russians had a 2-man advantage to try and solidify their lead. Dyubanok and Sosina were the most notable on the powerplay, putting constant pressure on the Swedish team's penalty killing unit.
The buzzer sounded (barely), the period ended, and after a bunch of the same commercials we've all seen over and over this week, Russia starts the second period on the power play for the third time in three games. Now, I'm not an expert by any means, but I think I may have cracked the secret to Russia's success. Start the second period on the power play, win the game. It's one of those weird hockey luck stories that make no sense but work every time.
After the 4 minute mark in the second game, things started to happen really quickly. Sweden's Lina Wester took a 2-minute penalty for interference at 24:00. At 26:29 Sweden's line change caused a penalty for too many players on the ice. The Russian's weren't able to score on either power play, but at 29:20 Alyona Khomich made it 2-0 for Russia on an assist from Yekaterina Smolina.
Just when you thought they were making more mistakes than they could fix, Pernilla Winberg put Sweden on the board at 38:58. Winberg, who was the Swedish Female Hockey Player of the Year in 2010, was one of their best forwards throughout the game. The shot went 5-hole on Russia's goaltender Anna Prugova, and Sweden was finally back in action.
Watching the third period was like watching a different game. Sweden's late second period goal gave them some life, and they were finally matching Russia's energy and physicality.
Shokhina took a penalty for Russia at , but wasted no time getting back into the play as soon as the got out of the box, charging the net and getting hooked by a Sweden's Emilia Andersson, putting Russia right back on the power play. Winberg looked like she was going to score a shorthanded breakaway goal and tie the game, but she missed and shot just wide of the net.
Russia's third goal was their most energetic yet in Sochi, and the crowd and Russian bench exploded (not literally, but boy did it ever sound like it). The home team captain Yekaterina Smolentseva scored off a beautiful play by Olga Sosina, who kept missing chances earlier in the period. Sosina battled to keep possession of the puck behind the net, looked to the front of the goal, and made a beautiful pass to Smolentseva to seal the deal for Russia.
Russia will play Switzerland in the first Quarterfinal game of the tournament on Saturday at noon Sochi time.