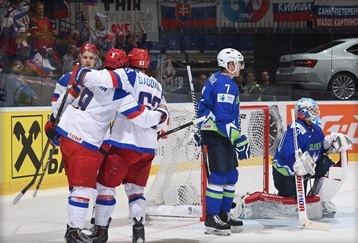 The Russians: one of the world's great hockey powers. The Slovenians: a feel-good story from the 2014 Sochi Olympics with not much of a strong hockey program to speak of. And yet when the two faced each other in the World Hockey Championship, the result – a Russian win – was much tighter than expected.
That was, in large part, thanks to a great offensive effort from Russian forward Yevgeni Dadonov who had four points on the day. He drew an assist on an Ilya Kovalchuk goal that opened the scoring and then potted Russia's third goal of the opening period to give his country a 3-0 lead going into the intermission.
He also picked up an assist in the second period on a goal by Vadim Shipachyov and then capped off his aforementioned four-point day with another goal, this one coming in the third period. Despite another offensive outburst – they scored six goals in the tournament opener – the Russians still found themselves in a battle with the not-so-frightening Slovenians.
The one source of star power on the Slovenian roster comes in the form of the Los Angeles Kings' Anze Kopitar who opened the scoring for his country. That trimmed Russia's lead to 3-1, but a two goal deficit was the closest the Slovenians would get to catching the Russians as the teams went shot for shot (or goal for goal) until the buzzer sounded on a 5-3 win for Russia.
After getting the start in the opener against Norway, goaltender Sergei Bobrovsky was given the day off in favour of Konstantin Barulin. Unlike Bobrovsky – whose only real test came in the third period in which he faced 13 Norwegian shots – Barulin was considerably more active throughout the game, facing 25 shots spread evenly over three periods.
If there is a weakness to be found in either of Russia's first two games it is undoubtedly the goaltending. Against a weak Norwegian team Bobrovsky allowed two goals on just 19 shots, which was followed by a similar effort by Barulin against an equally weak Slovenian team in which he allowed three goals on only 25 shots.
Fortunately for the Russians they've had the offensive muscle to hide their flaws thus far, but there's no telling how long that will last. Especially against the tournament's top teams (Canada, Sweden, etc.) great goaltending could very well be the difference between winning and losing.
After facing two sub-par teams to start the tournament the Russians will get a taste of some true competition when they play the United States May 4 at 10:15 EST in a battle for first place in Group B.