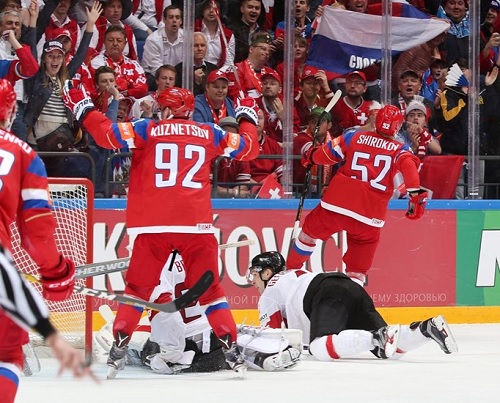 The Red Army received some powerful reinforcements ahead of Saturday's 2016 IIHF World Championship tilt against Switzerland.
And, when the dust settled following Team Russia's 5-1 victory at the Moscow Ice Palace, they delivered, contributing a goal and an assist in a winning effort.
Fresh off of the Washington Capitals' Stanley Cup playoff elimination, forwards Alexander Ovechkin and Evgeny Kuznetsov flew into Moscow to join their compatriots for the World Championships' group stage.
Suiting up for their first game of the competition, they took the ice against a stubborn Swiss side holding water in the middle of Group A's standings.
While the scoreboard painted a different picture, the underlying stats show a surprisingly tight game. Outshooting the Swiss by a slim 38-35, the high-flying Russian attack–second in the tournament in Goals Scored–was contained by the Colorado Avalanche's Reto Berra, only scoring one goal in a 16-shot first period.
The second frame brought more of the same: Russia failed to generate any sort of momentum, allowing the Swiss to test Sergei Bobrovsky on a regular basis.
But, 8:40 into the period, the Russians found their break.
Latching onto an Ovechkin feed, Kuznetsov cut a swath to the Swiss net, dekeing one defender before ripping a shot at Berra. Although the Swiss goalie made the initial stop, the 23-year old pivot batted home his own rebound, opening his tournament account and notching the eventual game-winner for the hometown Russians.
Even though they were outshot 14-11 in the game's final period, the Russians finally managed to break the Swiss. Goals from Ivan Telegin and Sergei's Shirokov and Mozyakin effectively ethered the opposition, relegating Simon Moser's late tally to nothing more than a shutout spoiler.
In all, the performance was Russia's fourth four-plus goal outburst of the tournament. And–with the addition of Ovechkin and Kuznetsov and a dream match-up against seventh-placed Norway slated for Monday–the question isn't when the trend will be bucked.
It could very well be a matter of if it will at all.