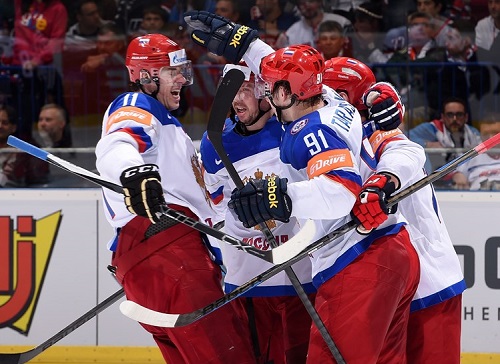 Team Russia continued its winning ways at the 2015 World Championships Sunday when it squeaked out a slim 3-2 overtime win against Slovakia.
Russia entered the game three points behind the United States for first place in Group B, needing a win to keep pace and still have a shot at getting top spot in the group. The Slovaks, meanwhile, entered the game a disappointing fifth place in the group, but with a chance of tying Belarus with a regulation win.
And it was Slovakia that drew first blood in the game as Tomas Kopecky scored 5:58 into the first period, with Richard Panik and Vladimir Dravecky drawing assists. Despite directing 12 shots at Slovakian goalie Julius Hudacek – compared to the five Sergei Bobrovsky faced in the opposite end – the Russians were held scoreless in the period.
But, as it has done throughout the tournament, Russia's tournament-best power play once again proved effective. Sergei Mozyakin struck for Russia's first goal on its second power play of the game after Milan Jurcina was sent off for cross-checking. Similar to the first period, though, only one goal was scored in the second, sending the game to the intermission in a 1-1 tie.
Vladimir Tarasenko broke the tie for Russia early in the third – though not without controversy. As he entered the Slovak zone, an official found himself in the middle of the high slot, tripping up Jurcina and preventing him from making a play on Tarasenko who scored seconds later. Fortunately for Slovakia Marian Gaborik tied the game up in the last minute to force overtime.
Despite a flurry of chances for Slovakia early in the extra period, it was the Russians who found a way to come out on top. Artemi Panarin grabbed the puck in the Russian end and went cost-to-coast, scoring a goal that was almost underwhelming given the effort he put in to make it happen.
Bobrovsky, meanwhile, wasn't tested much yet again (facing only 22 shots) but turned in a solid effort – especially at the beginning of overtime – to help Russia to victory. It has been a great turnaround for Bobrovsky who had a rather pedestrian start to the tournament – even though the results didn't reflect as much.
Russia has a day off before closing out the round-robin May 12 with a tough matchup against Finland at 2:15 p.m. EST. It still has a shot at overtaking the USA for top spot in its group, but needs one of two scenarios to play out: a USA loss in regulation coupled with a Russian win in any fashion, or an overtime loss by the USA coupled with a Russian win in regulation.
The American team also plays its final round-robin game May 12th when it takes on Slovakia at 10:15 a.m. EST.