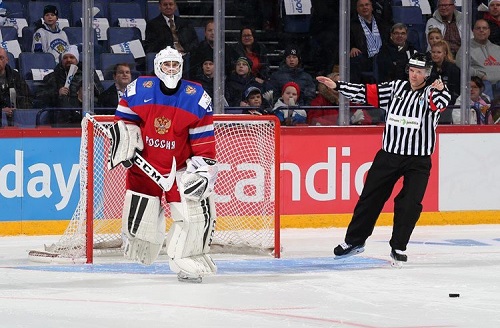 For the fans in attendance at Helsinki's Hartwall Arena, the opening fixture of the 2016 IIHF World Junior Championships gave them more than their money's worth.
For the Russian contingent: heartburn.
Kicking off tournament action at 7:00 AM Eastern time, the Russians took the ice against a Czech Republic squad itching to build off of a 4-1 triumph the last time the two teams met. And the rematch, very nearly, soured Team Russia's hopes once more.
Although the bulk of the first period was spent with the teams feeling each other out, the Czech squad jumped on their opposition, outshooting the Russians 17-12 through the first 40 minutes of play.
In spite of skating against a weakened opponent–2015 Boston Bruins first round draft pick Jakub Zboril received a game misconduct ten minutes into the tilt after brutalizing Yegor Rykov along the boards–Team Russia couldn't convert their chances, leaning heavily on undrafted netminder Alexander Georgiev to bail them out of trouble.
Bad breaks, post shots and the play of Czech netminder Vitek Vanecek finally caught up to the Russians in the form of a penalty shot, putting them behind 1-0 midway through the second. After a sloppy turnover in the Czech zone, a breakout pass sprung Red Deer Rebels' winger Michael Spacek, pitting the skater against his Russian counterpart in net on a breakaway. A lunging slash from rearguard Alexander Mikulovich prevented a goal, but created a penalty shot opportunity. Spacek, skating in, deked Georgiev to the ice, waiting out the goaltender's sideways push before coolly finishing glove-side high to give the Czechs the advantage.
A clean third period followed, and, with 10:51 remaining, the Russians found their equalizer. Skating in along the rightside boards, Radel Fazleyev slid a pass to Alexander Dergachyov, who redirected the puck on net. Vanecek stuffed the initial attempt, but in the ensuing jam, 18-year old Avangard Omsk forward Artur Lauta latched onto the rebound, poking the puck in net for the Russians' first of the game.
After a scoreless overtime period, the game boiled down to a shootout. Up first in the skills competition, Maxim Lazarev moseyed in on Vanecek's net, getting the goaltender to bite on a nifty double-clutch before converting five-hole. With the advantage to Russia, it was Georgiev's turn to bear the pressure. And bear it he did: Standing tall as he did through 65 minutes of play, the netminder stoned three Czech shooters, finishing strong and stealing a win for Team Russia.
Snatching two out of a possible three points, the Russians find themselves sitting second in Group B, a point behind hosts Finland for group supremacy. They won't need to wait long to get a crack at shaking things up: The team is scheduled to take the Finns on next, with an evening faceoff at the Hartwall slated to alter the round robin landscape.