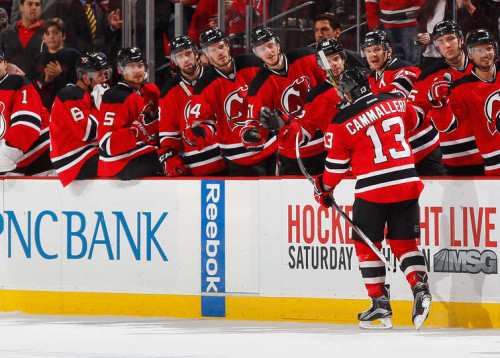 Almost right after the season began, the Devils suffered an injury. On October 16th, veteran forward Tuomo Ruuto suffered a fractured foot, an injury that did not show up in original testing. To replace him, the Devils signed Bobby Farnham, who has far exceeded expectations in terms of playing ability.
But, Ruutu returned to practice on Sunday, signalling he is close to a return. Watch him discuss it here:
In a lighter moment, as he continued to discuss his return from injury, Ruutu was playfully photobombed by teammates Keith Kinkaid and Sergey Kalinin.
After Sunday night's 4 – 2 victory over the Florida Panthers, the NHL also named first liner Mike Cammalleri the Third Star of the Week. Cammalleri amassed 7 points (4G-3A-7P) in 4 games this week. This total included three straight multi-point outings, helping to move the Devils from 10th back into 8th. Thirty-three year old Cammalleri is fifth in the league with 30 points in 27 games, scoring 11 goals and 19 assists.
The Devils head to Toronto on Tuesday to take on the Maple Leafs.