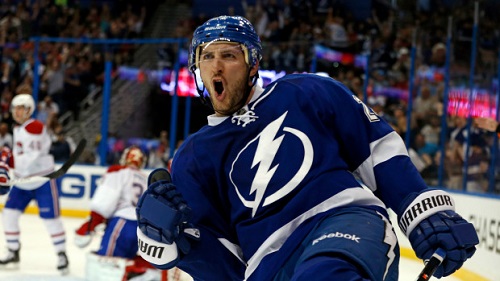 "I knew that the Lightning is where I wanted to be and a place I could see having success in," Ryan Callahan said after signing a six-year, $34.8 million deal on Wednesday with Tampa Bay.
It's always fun when a player pretends that the team they sign with was the only team they ever envisioned signing with. He never engaged in talks with any other team, but Callahan was definitely headed for the team that would provide him the most stability and the most money.
The forward seems like he is in pretty good position to be in Tampa Bay for a while. His contract includes a no-trade clause, which consists of a full no-move clause for the first four years of the deal and a partial one for the final two. An apparent sticking point when trying to re-sign with the Rangers, this is a big reason why the deal got done with Tampa, particularly because Callahan and his wife, Kyla, have a two-year-old daughter Charlotte with another baby on the way in August.
But at an annual average value of $5.8 million, Callahan's contract is far from a steal for the Lightning. You're looking at a guy who averages about 65 games per season over the past five years. At 29 years old on a six-year deal, the injuries are scary. And it's not like he is suffering from freak injuries. If there's one thing you can say about Ryan Callahan, it is that he plays hard. Pile on all the GRIT and TOUGHNESS and GRINDER superlatives you want because that's the kind of player he is. He's a solid defensive player. He'll be a great locker room guy, particularly for all of the Bolts' young guns. He will give his heart and soul on the ice. But he will get hurt.
And don't expect him to add much to the offensive game. Over the past five seasons, he averages 41.2 points per year. He came in 208th in the NHL in Corsi percentage for the 2013-14 season at 50.7 percent.
He's not going to particularly hurt the team being on the ice, but he's not going to help it that much either. $34.8 million for six years is quite the overpay.*
*For those saying he settled when you compare his contract demands in New York with what he ended up getting, think about this. He wanted six years, $39 million from New York, and they were offering $36 million. He was very adamant about the no-trade clause. While taking $34.8 million seems like less, he got his no-trade clause, and he got a team in a state with no income tax.
In my opinion, it feels like the Lightning would have considered the Martin St. Louis trade incomplete if they didn't re-sign Callahan this summer. Perhaps general manager Steve Yzerman wants so badly to prove they won the St. Louis trade, he had to get Callahan to stick around to see if it works out. Unfortunately, that meant signing him to a long-term deal. The key now is figuring out if the Lightning left enough space to build the right team.
It helps that the Lightning also used their compliance buyout on Ryan Malone on Wednesday, whose contribution to the team seemed to worsen on and off the ice in the last year. That move saved them a $4.5 million cap hit in the 2014-15 season, which they put toward a 2-year, $1.9 million deal with forward J.T. Brown.
The way things look now, the Bolts will have about $11 million to work with if the salary cap lands around its projected $70 million level. So, while Callahan will make $6 million in 2014-15, more than Tyler Johnson ($2.8 million), Ondrej Palat ($2.8 million) and Alex Killorn ($2.4 million) among others, the Lightning aren't in trouble because of what they're paying their forwards (although, as Raw Charge pointed out, 7.5% of the salary cap being taken up by Ryan Callahan is arguably a rather large misstep).
The real problem comes when you look at what Tampa Bay is paying its defensive core. Four of the five defenseman currently under contract with the Lightning will make $15.5 million (and take a $17 million cap hit) in 2014-15. We're looking at you, Matt Carle, Victor Hedman, Eric Brewer and Mattias Ohlund (!).
The biggest need going forward has to be defenseman, as there are just too many old, turnover-prone guys on the back line. Yzerman has said the Lightning will target defenseman this offseason but hasn't specified anyone in particular. He has also mentioned that he would be open to dealing one of Tampa Bay's first-round picks (19 or 28) for a young defenseman under contract but knows that would be difficult.*
*This piece was written before the Jason Garrison deal went down. I'll have an analysis of that trade out in the next few days.
We'll see what happens going forward, but this is undoubtedly an interesting start to the Lightning's offseason as free agency prepares to open on July 1. I have a piece forthcoming about who the Lightning should target during free agency, but it doesn't seem like there will be too much turnover from a fairly successful 2013-14 season.
Who do you think the Lightning should target in free agency?
Do you like the Callahan signing?
Will you miss Ryan Malone?
Leave your thoughts in the comments or contact me on Twitter @GainesTaylor.