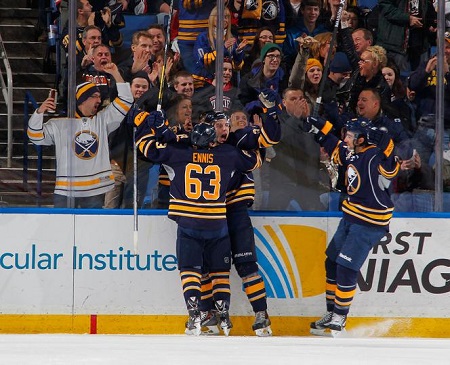 The Buffalo Sabres did something Tuesday night that has not happen much this season: they won a game. The Sabres shook up their lines this week and it showed. Buffalo tied a season-high in shots (36) and had 18 in the 2nd period (most in a period this season) It took 10 rounds of the shootout but Buffalo defeated the Ottawa Senators 2-1.
Ottawa would get on the board first. Milan Michalek took a pass from Cory Conacher and beat Ryan Miller to go up 1-0 early in the 1st period. It was Michalek's 5th goal of the season.
Buffalo would tie it up with a little less than 7 minutes to go in the 2nd period. Christian Ehrhoff sent a shot on net. Zemgus Girgensons outhustled Ottawa defensemen Joe Corvo and whacked at the puck. The puck squeezed past goaltender Robyn Lehner.
Buffalo though it had tied the game 3 minutes later. There was a delayed penalty on Ottawa and Buffalo was peppering Lehner with shots. As the puck was lying in the crease, Ottawa forward Jason Spezza accidently tipped it into the net. The Buffalo crowd was cheering! However, the refs after review deemed that Ottawa had possession of the puck, hence the penalty would be called. Buffalo fans were furious with the call and the 13,000 people that were there let their voices be heard.
According to Rule 15.1 "When the team to be penalized gains control of the puck, the Referee will blow his whistle to stop play and impose the penalty on the offending player."
The real question becomes, did Spezza have control of the puck? Yes, he touched the puck but I don't think he had possession.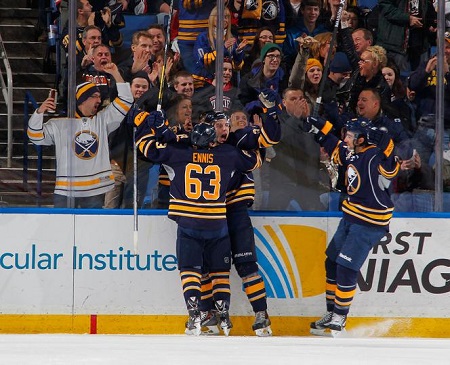 Buffalo fought hard the rest of the game but couldn't put it away which forced the shootout. The Sabres would have to go 10 rounds before it was over. Girgensons broke the 3-3 shootout tie in the 10th round and Sabres goaltender stopped Erik Condra to seal the victory. Miller finished with 35 saves.
Fast facts:
Buffalo is 4-0 in shootouts this season.
The Sabres penalty kill in December has been almost flawless (only 1 goal allowed in 6 opportunities)
Ryan Miller has the most career shootout victories (46)
The Sabres play at Ottawa Thursday night.