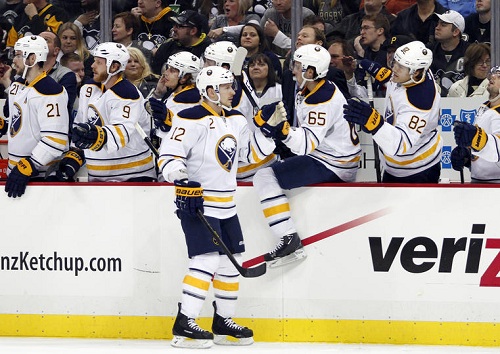 Kevin Porter scored his first two goals of the season as the Sabres blew out the flaming-hot Penguins 4-1 at Consol Energy Center, snapping their 15-game winning streak. Cody Hogdson and Steve Ott nabbed the other two goals in the decisive win.
This is the first game that the Penguins have played without their point-leading captain Sidney Crosby, who is out indefinitely with a broken jaw.
With the recent trading of defensemen Jordan Leopold and Robyn Regehr and leading goal scorer Thomas Vanek and Ville Leino out with injuries, Sabres recalled Adam Pardy and Luke Adam from the Rochester Americans.
Line chemistry seemed to be the "it" factor of the night.
"All the lines were going," Ron Rolston said. "I wasn't in a situation where I was afraid of a line matchup tonight because everyone was playing so well."
Porter made no mistake burying the shorthanded goal after he intercepted Matt Niskanen's blind behind-the-back pass at 10:24 in the first.
It didn't take long for Jarome Iginla to get comfortable with his new teammates. The former Flame scored his first goal as a Penguin on the power play as Chris Kunitz found him wide open in front of Ryan Miller's net.
Ott regained the lead for Buffalo with a slapper off a beautiful set up by captain Jason Pominville.
Hodgson scored a wraparound goal at 2:21 in the second period. Tomas Vokoun committed short side and was unable to recover as he got tangled up at the side of the net.
The last goal of the game was Porter's second of the night and the season. Vokoun seemed to be looking for a pass and never reacted to the shot fired his way.
"My first objective is not to get scored on but to score a couple goals and chip in offensively in always nice," Porter said.
Marc-Andre Fleury replaced Vokoun, who allowed four goals on 13 shots.
This was a special night for Miller as he passed Dominik Hasek for the most games played (492) by a Sabres goaltender. He stopped 19 shots tonight. Miller has a 2.83 GAA and a .912 save percentage this season.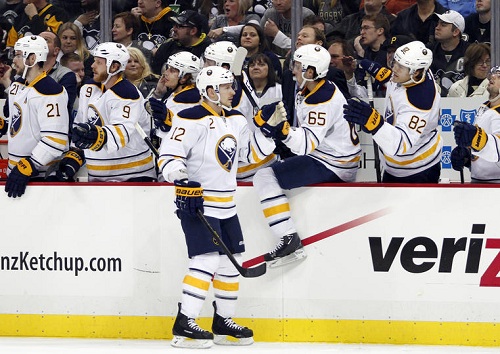 The Sabres have been plagued with the inability to play a consistent 60 minutes, which has cost them many one-goal games this season.
"Tonight you can say we played a full game," Miller said. "Hopefully this is something we can carry forward, keep in our pocket and know that we can play a good solid game."
The Sabres are now 14-17-6 and are back at First Niagara Center on Friday to face the Ottawa Senators.
Three Stars:
1. Kevin Porter
2. Jason Pominville
3. Steve Ott
Notes:
• Tonight was Luke Adam's first NHL game since Feb. 8, 2012.
• Mark Pysyk collected his first NHL point with the assist on Hodgson's goal.
TRADE DEADLINE is 3pm on April 3rd… So far in the Sabres "rebuilding":
• TJ Brennan to the Florida Panthers for a fifth-round pick in 2013.
• Jordan Leopold to the St. Louis Blues for second-round pick and a conditional fifth-round pick in 2013.
• Robyn Regehr to the Los Angeles Kings for two second-round picks in 2014 and 2015.