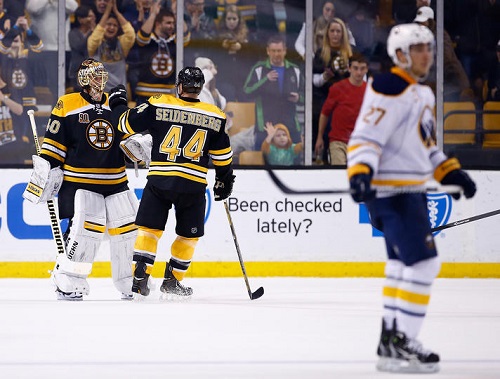 Just when it looked like the Sabres were going to start turning things around another loss came as the result. In the previous two games before playing the Boston Bruins Saturday night, the Sabres had scored 8 total goals. Before that it had taken them more than seven games to score that many. The Bruins received great goaltending from Tuukka Rask and had plenty of scoring chances to defeat the Sabres 4-1.
Boston would get on the board first halfway through the 1st period. A Buffalo penalty allowed the Bruins to go on the power-play. Carl Soderberg made a great pass to a driving Reilly Smith who beat goaltender Jhonas Enroth to go up 1-0.
Buffalo would tie it up in the waning minutes of the period. Matt Moulson took a shot on Rask and the puck was loose. Zemgus Girgensons picked it up and put the puck past Rask. Henrik Tallinder also had an assist on the goal.
Boston would take the lead for good early on in the 2nd period. Boston came down in the Buffalo zone on a 3 on 2. Jarome Iginla passed to David Krejci who let a wrist shot go and beat Enroth to go up 2-1. Milan Lucic and Reilly Smith would add 3rd period goals and stop the Sabres winning streak.
Fast Facts:
Newly acquired Sabres forward Linus Omark made his debut against the Bruins. He was acquired from the Edmonton Oilers for a conditional draft pick. He was -1 and played roughly 13 minutes.
The Sabres were 0-6 on the power-play which tells the tale of this game best.
Cody Hodgson who suffered an injury against the Bruins on Thursday, will probably miss several weeks with an upper-body injury.
The Sabres host the Phoenix Coyotes at home Monday night.