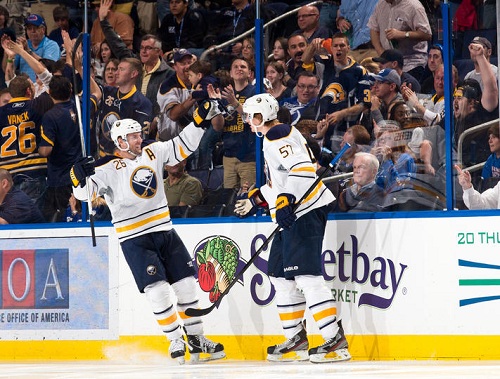 The Sabres ended their four-game losing streak on Tuesday with a 2-1 win over Tampa Bay thanks to a solid defensive effort and goals by Cody Hodgson and Tyler Myers at the Tampa Bay Times Forum
The win was extra special for Buffalo, as it gave interim Head Coach Ron Rolston his first NHL win.
"It was great, especially the way it was done," Rolston said.
Steven Stamkos started things off early by knocking in the rebound just 1:24 into the game. He leads the league in points (30) and goals (14).
Halfway into the first period, Hodgson's shot from behind the net was tipped in off of Sami Salo's skate, tying the game up at one apiece.
While the second period lacked goals, it sure didn't lack Buffalo penalties. The Sabres successfully killed off three penalties, including 45 seconds on a 5-on-3. The Lightning finished 0-for-6 on the power play for the night.
"Our penalty kill really came through tonight," Myers said. "It was an unbelievable job by our killers."
To make up for his two penalties in the previous period, Myers found the back of the net off a pass from Thomas Vanek less than a minute into the final frame. His goal gave Buffalo the lead and the win over Tampa Bay.
"The battle level and competitive nature we had tonight was outstanding," Rolston said. "You could just feel it on the bench just how dialed in they were."
Ryan Miller had 30 saves in tonight's game. He now has a 2.83 GAA and a .916 saving percentage.
The Sabres are now 7-12-1 and head to Sunrise to face off at the BB&T Center against the Panthers on Thursday.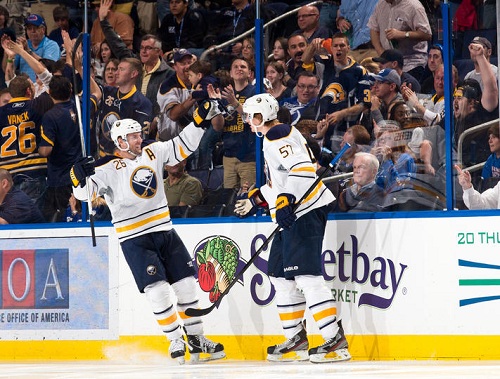 Three Stars:
1. Ryan Miller
2. Thomas Vanek
3. Steven Stamkos
NOTES:
• Congratulations to Ron Rolston on his 1st NHL win!
• Buffalo Sabres have held a second-intermission lead in just ONE of 20 games this season!
• Sekera, Ehrhoff and Pominville had 20+ TOI
OLGA'S THOUGHTS:
The Sabres have been looking for more structure and they definitely found that in tonight's game. Besides a few avoidable penalties, the team as a whole, showed a lot more discipline. They had good coverage and did not find themselves chasing and constantly having to react. They also kept a lead for almost a full 20 minutes, which is something they have not been able to do often this season.
Myers – I was happy to see him bounce back from his two penalties and shaky-looking play in the first half of the game. He didn't let frustration get the best of him, he continued plugging away, battled for the puck and was rewarded with a goal to top it off. Hopefully this sparks some confidence that will help him steadily improve every game.