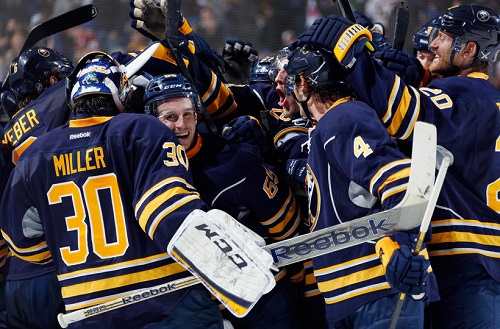 Christmas came early for the Sabres and their fans Monday night at the First Niagara Center. Buffalo, who was down several skaters to start the game because of the flu, beat the Phoenix Coyotes 2-1. The OT winner was one of the weirdest goals in Sabres history.
Buffalo had another slow start in this one. They only managed 3 shots in the opening frame while the Coyotes tested goaltender Ryan Miller with 15. However, Miller was up to the task and turned all 15 away.
The Coyotes would get on the board early on in the 2nd period. Connor Murphy took a shot from the point. Martin Hanzal did a great job getting in front of the net and tipped Murphy's shot. Miller had no chance and it went by him to make it 1-0. The goal was reviewed because it looked as though Hanzal's stick was above the crossbar. The officials ruled it hadn't and the goal stood.
To make matters worse for the Sabres, Drew Stafford received a game misconduct for his elbowing of Oliver Ekman-Larsson. Buffalo was now down to 15 skaters. To give the Sabres credit, they did kill off the 5:00 minute power-play.
Buffalo would not give up and it paid off in the end. Zemgus Girgensons stole the puck and fed a streaking Tyler Ennis. Ennis split the defenders, deked goaltender Mike Smith and put it in the back of the net.
Mark Pysyk would be the hero in overtime. Pysyk put a shot on net and he hustled to get the rebound. Smith and Pysyk both swiped at the puck at the same time. The puck went up in the air and ended up on-top of the back of Smith's goalie pants. Not knowing where it was, Smith went back to his crease sliding his butt-end into the net causing the puck to cross the goal-line. After review, the goal stood and the Sabres were victorious!
Fast Facts:
The Sabres have won 3 straight home games for the first time all season.
They are also 4-4-2 in their last 10 games.
Buffalo looks to continue its recent success Friday as they take on the Toronto Maple Leafs.