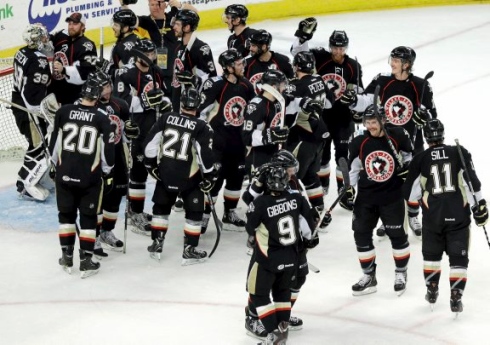 The Wilkes-Barre/Scranton Penguins have defied the odds and proven that nothing is impossible. With a 5-0 shutout win over the Providence Bruins, the Penguins stamped their ticket to the Eastern Conference Semifinal after rallying back from a 0-3 series deficit. The club became the only team in the American Hockey League (AHL) to achieve the feat and win the deciding game on the road. Two other teams were able to claim a best-of-seven series in the AHL's 77-year history, however in both instances, Game 7 were home games.
"What we accomplished is really difficult to do," Penguins coach John Hynes commented. "It speaks volumes about the character of the group and it is special. Anytime you can be in sports and make history, it's something teams are going to look at down the road and this team did it. That's special. That's part of leaving a legacy."
The middle frame saw the Penguins take a commanding lead over the host Bruins, scoring four unanswered goals on a stunned Niklas Svedberg. Chad Kolarik collected his own rebound and banked the puck off of the Bruins netminder to jump start the Penguins' barrage with a power play marker at 4:44 of the second period.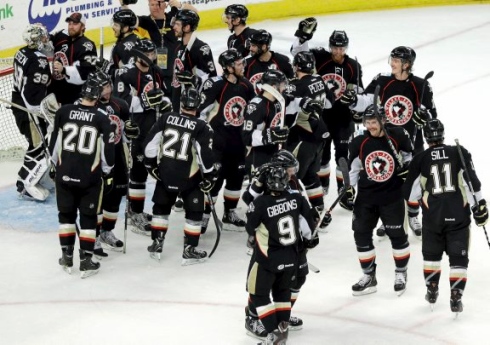 The gap then widened when the visiting Penguins notched three goals in just over four minutes—by and large due to speed, discipline, and quick, short passes. With a heavy shot, Joey Mormina riffled the puck to the net, allowing Warren Peters to redirect the puck into the top corner and record his fourth goal of the post season. Intercepting a Bruins outlet pass, Chris Collins snatched the puck and connected with Adam Payerl in the far circle. Payerl's quick shot beat a sprawling Svedberg on the blocker side. Zack Sill and Trevor Smith also chimed in, rounded out the scoring for the Penguins and ending the Bruins' playoff run.
Penguins' netminder Brad Thiessen shut the door on 34 Bruins' shots, posting his second shutout of the post season and the fourth of his career. Thiessen's heroics between the pipes earned him the game's first star. Thiessen seemed composed and disciplined throughout the game, paying attention to detail and effectively challenging shooters. Thiessen's stop of the night came in the dying seconds of the opening frame. Despite traffic in front of the net, Thiessen made a quick stop on Bruins' blue liner David Warsofsky, who was positioned at the left circle.
The Penguins will battle the Syracuse Crunch in the Eastern Conference Final. Game 1 is set for May 25 at 7:00pm.