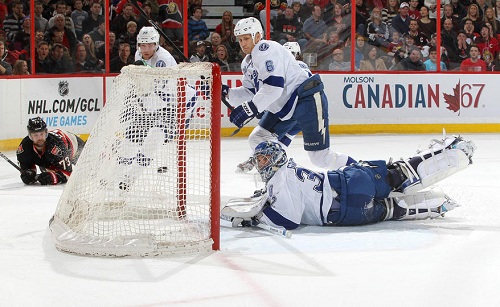 The Lightning must have had early dinner reservations in Ottawa on Saturday night because they tried to lose the game as quickly as possible against the Senators.
The referees did enforce the rules however and made the Lightning play out all 60 minutes. The Bolts did make a run at the game late, but the lead proved too much to overcome.
Four first-period goals led the Ottawa Senators to a 5-3 victory over the Lightning.
Jakob Silfverberg (8) opened the scoring at 12:49, redirecting a Marc Methot shot past goalie Mathieu Garon. Just two minutes later, Eric Gryba scored his first goal of the season, putting the Bolts in a 2-0 hole.
BJ Crombeen tried to fight to fire up the Bolts, a strategy that is rather ineffective while being beaten to a pulp. Guillaume Latendresse (4) then scored on a rebound from a sharp angle at 17:01.
At that point, Lightning coach Guy Boucher realized something was going terribly wrong and replaced Cedrick Desjardins with Garon. Desjardins swiftly allowed a Senators goal with less than 10 seconds to go in the period when Daniel Alfredsson (7) scored a power play goal.
Crombeen, who racked up 22 penalty minutes in the game, tried fighting again in the second period with Methot. Nonetheless, the Senators cruised to a victory over the Bolts.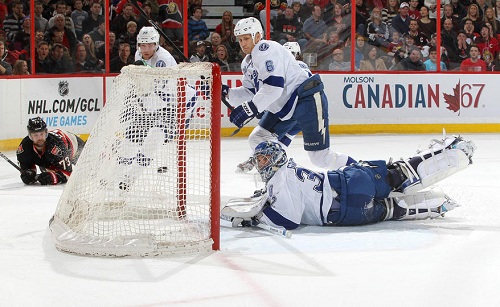 As usual, the young guns tried to bail Tampa Bay out in the end, as Tyler Johnson (2, 3) added two goals in the third to cut down Ottawa's lead. Teddy Purcell (7) even added a goal to cut the lead to one with less than two minutes to go in the game.
But it was too little, too late for the Lightning as Alfredsson's second goal of the game (8) into the empty net put the game away.
Goalie Robin Lehner, who made 29 of 32 saves, bailed out most of Ottawa's mistakes in the game.
The Bolts will be back in action again tomorrow night against the Winnipeg Jets. The puck will drop at 8 p.m. ET.
The Senators will continue a four-game home stand on Monday night against the New Jersey Devils starting at 7:30 p.m. ET.