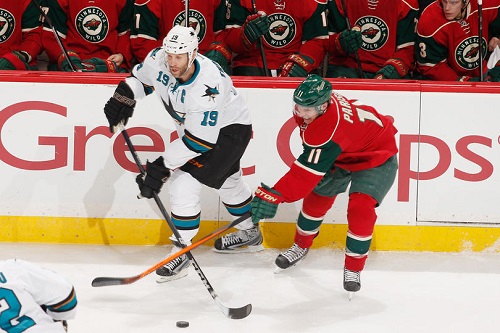 Finally. That one word is the word that everyone on the Sharks is thinking right now. They finally get to go home after a terrible road trip. After winning six games in a row, including five games in a row at home, the Sharks have dropped three straight in regulation. The Sharks faced the Minnesota Wild yesterday, and were hoping for a win, but that didn't happen.
Before the game, Matt Nieto and Freddie Hamilton were called up to the Sharks, while Matt Pelech was sent down to the AHL, and Mike Brown was put on the IR.
During the game, an awful power play, and a few questionable calls may have cost the Sharks a victory.
The first period was scoreless, with some nice back and forth action.
The second period was where the controversy occurred. On Minnesota's first goal, two questionable no calls happened. The first one was a possible slash on Justin Braun's stick by Zach Parise's. Parise clearly knocked Braun's stick out of his hands while the puck was long gone. Parise went on to score a goal a few seconds later, but as the goal was being put in, it looked like Jason Pominville knocked into goalie Antti Niemi, which could have been goalie interference. Coach Todd McLellan was upset about the call due to the fact that about a month ago, the Sharks were disallowed a goal in overtime because of a similar play. It was called back then, but not today. Mikko Koivu added another goal in the second.
The third saw back and forth action once again, until Patrick Marleau put a goal in with a little time left on the clock. The Wild scored an empty netter, though, and went on to win the game 3-1. Joe Thornton saw his eight game point streak come to an end.
McLellan did not want to blame the loss on the refs because nobody will ever know if rescinding the goal would have changed the course of the game. He was furious with his power play units, which went 0-4 in eight minutes of ice time.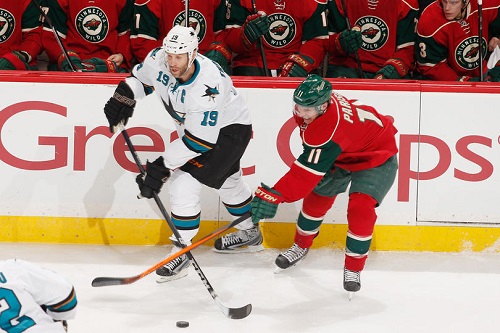 "The power play was awful. I don't know if I've been in six years as disappointed with the power play as I am right now." McLellan was also sure that his players felt the same way, and were upset at themselves too.
Regarding the goal that probably should not have counted, the enraged head coach said, "I'll be looking for an explanation, because before we lose our third point now – and, again, I don't know the outcome of the game would have went. Who knows what happens if that's disallowed? But, if we're comparing the two, I don't understand it, so before we get to the third one, I'd really like that rule clarified."
The Sharks happily return home for their next two games.