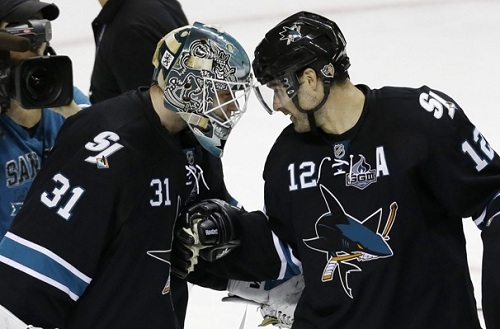 The members of the San Jose Sharks had one thing on their mind while traveling to Vancouver to face the Canucks…beat them and avenge the WCF loss from a couple years ago. Traveling up north the Sharks knew that they had a tough battle ahead of them, and were mentally prepared for the physical series that was about to begin. What they didn't expect was the rivalry that was a volcano getting ready to explode.
The Canucks had home ice advantage, but that didn't last too long. By the time game one was finished the Sharks had a series lead of one game to zero, and they were feeling good about themselves. With Corey Schneider out with injury, the Sharks found themselves facing Roberto Luongo in net, who played stellar hockey. Even though the Canucks lost, Luongo proved that he could keep his team in games.
Game two commenced two days later and the volcano was beginning to erupt. Tempers started to boil over and scrums began to form after every stoppage. This game had a little more excitement than game one because after 60 minutes the score was 2-2. The only reason the score ended up even was because Patrick Marleau scored with 55.1 seconds left in the third period. Then 5:31 of overtime, former Canuck Raffi Torres lit the lamp, sending almost everybody in Rogers Arena home depressed.
Now with home ice completely obliterated, gears shifted to HP Pavilion. Schneider was feeling healthy once again, so he was put into net for this crucial game. The decision to put in Schneider backfired, and early in the third period the Sharks found themselves up 5-1. Luongo then came into the game and didn't let any other goals in. The Sharks won 5-2 and had a commanding lead in the series.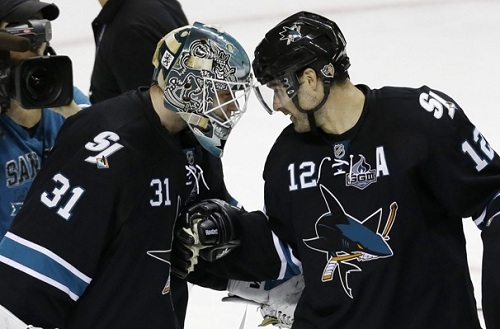 In between games three and four, Kevin Bieksa made comments about Joe Thornton and Logan Couture embellishing. The two accused players shook the comments off, and pledged to not change their playing styles.
Schneider once again got the start for Vancouver in game four and this time played very well, keeping his team in the game for 60 minutes. The game went to overtime, and a controversial call put the Sharks on the power play. The Sharks would capitalize and finish the series off, winning 4-3 in OT. The goal came on a huge rebound, which Schneider was giving up the whole game. This marked the first time that the Sharks swept a playoff series.
In summary, the Sharks proved that they can play physically when needed as well as play with composure. Being the only team that swept, the Sharks have time off, and are eagerly waiting to know who their next opponent will be.