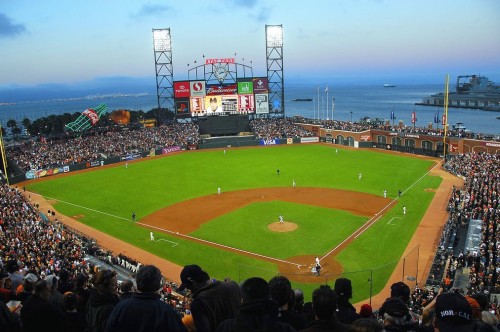 I'm still not fully recovered from blowing a 3-0 lead to the dreaded LA Kings who I now hope blow their own 3-0 lead, but I think I'm good enough to write an article without venting.
With all the talk of the NHL most likely continuing an outdoor series, the Sharks look like they are highly likely to get an outdoor game. Hooray! Looks like they're winning the race to get to play outside in the beautiful, sunny Bay Area…unless of course they choke that lead and give it to—hehe never mind.
As I was saying, if (and when) the Sharks are chosen to host that outdoor game, a major question is going to be where. The three choices are Stanford Stadium, AT&T Park, and Levi's Stadium. Since I'm pretty sure Stanford won't get the game (sorry Cardinal faithful), elaboration will occur on scenic AT&T Park, and new Levi's Stadium.
First, AT&T Park is arguably one of the most beautiful ballparks in the country. With its outstanding view of the bay and giant Coca-Cola bottle overlooking the field, it would be a remarkable place to hold a game. Ironically, San Jose is a Pepsi sponsored team, but never mind that. It has fewer seats that Levi's Stadium, making it easier to fill up, and it definitely has a better view. Plus, if the Sharks choke during that game, they can jump back into the bay and swim away…sorry, this is gonna take a while to get over.
Next, Levi's Stadium could be a viable option. The main reason: IT'S NEW!!! Who doesn't like new things? The Super Bowl will be held there, Wrestlemania will be held there, so why not host an outdoor hockey game, right? The only possible problem would be timing. The ice takes about three weeks to prepare, and if the Niners play super well (which they will because Go Niners) then the NHL won't have enough time to set up the outdoor game equipment. 300-pound offensive lineman skating around sounds and would be hilarious, but believe me…nobody would want to see that.
Who the opponent would be is also a topic for discussion. With the Colorado Avalanche up and coming, that could be an intriguing match up, but come on, the NHL wants good ratings, and they would get that from a Sharks vs. Quee—excuse me, Kings matchup. It would be a fun game to watch, and an even better game to go to.
So even though the outdoor game for San Jose is not set in stone, if the games continue, the Sharks will most likely get one. I'm hoping for a date with the Kings in beautiful AT&T Park, home of the San Francisco Giants (Go Giants!).
Oh and one last thing…WE WERE ONE WIN AWAY.