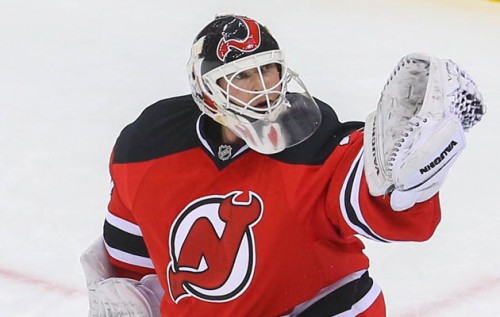 Last weekend, Martin Brodeur announced that he will test free agency this off season. That being said, should the Capitals be interested in a veteran goaltender like Brodeur?
The Capitals don't have a back up goaltender even though Philipp Grubauer shined in a few games, but is still not quite NHL ready. The Capitals also traded away back ups Michael Neuvirth (Buffalo Sabres) and Jaroslav Halak (New York Islanders), leaving them with spaces to fill. For the right price, I think the Capitals could sign a veteran goaltender in Brodeur who can help shape young Braden Holtby.
Brodeur, however, should not split minutes evenly with Holtby. The Capitals goalie carousel needs to come to an end and Holtby should be named starter, and remain starter though thick and thin. Barry Trotz needs to avoid using the Adam Oates system of whoever has the "hot hand". As I put in the Ryan Miller post, Holtby ranks 8th out of 127 in Sv% for goalie who have faced over 3,000 shots in the last twenty years, with a Sv% of .919 (.05 above league average).
With Brodeur's advancing age the Capitals should not sign him for more than one or two years, nor should they offer him more than $2-$2.5 million/per year. Any more than that would cut into cap space that could be better used to sign a stronger defensive core, or resigning Mikhail Grabovski and Dustin Penner.
Love Reading About Hockey?

Subscribe to keep up-to-date with the latest and most interesting hockey news!
| | |
| --- | --- |
| | We hate spam just as much as you |